A Very Harold & Kumar Christmas
(2011)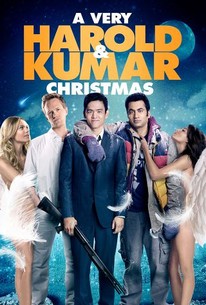 TOMATOMETER
AUDIENCE SCORE
Critic Consensus: Still raunchy, still irreverent, and still hit-and-miss, this Harold & Kumar outing also has a Christmas miracle: The audience gets to see the sweeter side of the duo.
A Very Harold & Kumar Christmas Videos
A Very Harold & Kumar Christmas Photos
Movie Info
Following years of growing apart, Harold Lee (Cho) and Kumar Patel (Penn) have replaced each other with new friends and are preparing for their respective Yuletide celebrations. But when a mysterious package mistakenly arrives at Kumar's door on Christmas Eve, his attempt to redirect it to Harold's house ends with the "high grade" contents-and Harold's father-in-law's prize Christmas tree-going up in smoke. With his in-laws out of the house for the day, Harold decides to cover his tracks, rather than come clean. Reluctantly embarking on another ill-advised journey with Kumar through New York City, their search for the perfect replacement tree takes them through party heaven-and almost blows Christmas Eve sky high. -- (C) Warner Bros
Critic Reviews for A Very Harold & Kumar Christmas
Audience Reviews for A Very Harold & Kumar Christmas
½
[img]http://images.rottentomatoes.com/images/user/icons/icon14.gif[/img]
Directors Cat
Super Reviewer
This is a decently entertaining and adequate film, though, in the end, it's really not all that special. I think I liked it a little more than its predecessor, since it didn't take things to such an extreme level straddling the line between offensive funny and just offensively bad taste. Oh, believe me, there's some bad taste type of stuff here, it just didn't seem as overkill. I think this could have been a lot better had they come up with a far stronger and fresher script, but at least they got creative with the 3D (even if I did have to see it in 2D. Plus, they did seem to have fun by making it a Christmas movie (the claymation part is pure gold). Unlike part two which took place within an hour after the first, this one is set several years later. Harold and Kumar have drifted apart and have become estranged. Harold is a married man whose become a responsible straightlaced (read: boring) adult, while Kumar has remained the apathetic juvenile. Fate brings them together on Christmas Eve, and, after some typical shenanigans, the duo are forced to search for the perfect Christmas tree after Harold's father-in-law's prized one is destroyed. What follows is the typical madcap adventutre with all kinds of over the top nuttiness, vulgarity, and laughs, with some (but not too much this time) subtext thrown in for good measure. There's no Meloni cameo, but Elias Koteas does a good job in his place. Also, Danny Trejo wearing Christmas sweaters and playing against type (mostly) is one of the funniest things ever. All in all, an entertaining return, but not as awesome as it should have been. Still, it's short, not boring, and an okay way to spend some time.
Chris Weber
Super Reviewer
A surprise hit in my book. I've never seen the Harold & Kumar installments so maybe that's why this 3rd iteration was an enjoyable one for me. It's everything you could expect from a flick like this: Grotesque, abidingly crude, and vulgarity that's thrown in your face; it's also a lot of fun. This offensive flick throws a lot comedic punches that, most of the time, misses, but every now and then, it finds a haymaker comes from nowhere and results in laugh out loud laughter. I found myself getting lost in gleeful laughter and hooked into the simple but entertaining narrative. Yeah, the 3D formatting is blatantly thrown in, and yes, it isn't the most fantastically well-thought-out film, but it shamelessly embraces all of it, suspending all kinds of beliefs from all over. It's a raunchy movie that doesn't care how ridiculously over-the-top things can get; it's here to entertain. With such an audacious full-front assault towards it's repulsive personality, obviously I had my gripes with the film, but not for it's offensive behavior; this eccentric execution usually comes coupled with poor technicalities and a real poor respect towards the art of filmmaking. Plus, it's simply not my type of movie. Nevertheless, "A Very Harold & Kumar Christmas" took me by a wild surprise; my expectation was that equivalent to the more recent Van Wilder flicks. This is a profane caricature that draws its comedic value through its sarcastic outlook on everyday life. It's entertaining
A Very Harold & Kumar Christmas Quotes
| | |
| --- | --- |
| Boris: | "then we kick your rankley asses out of here and take all your muther fucking cash" |
| Boris: | Tthen we kick your rankley asses out of here and take all your muther fucking cash. |
| | |
| --- | --- |
| Harold: | Dude, what are you doing?! |
| Kumar: | Getting "not-low", what do you think? |
| Kumar: | Getting 'not-low', what do you think? |
| | |
| --- | --- |
| Kumar: | you're not gay motherfucker. |
| Kumar: | You're not gay, motherfucker! |