Vexille
(2008)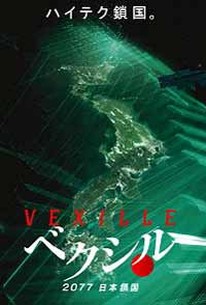 Movie Info
Ten years after Japan withdrew from the U.N., cut their ties with all the nations of the Earth, and built an impenetrable electromagnetic field to prevent any outsiders from entering their borders, a high-tech American commando unit is dispatched on an unofficial mission to penetrate the shield surrounding the country and gather information about their highly advanced robotics program. The year is 2077, and Japan has been accused of conducting illegal robotics research. As a result, the leaders of Japan have decided to construct a massive electromagnetic field known as RACE to prevent any further meddling in their domestic affairs. Meanwhile, back in the United States, an elite commando unit dubbed SWORD launches a surprise attack on a powerful Nipponese conglomerate known as Daiwa Heavy Industries and nearly captures primary android Saito (voice of Akio Otsuka). The leader of SWORD is fearless commando Vexille (voice of Meisa Kuroki), and though she may have failed to capture Saito Vexille is determined to succeed at her team's next mission. American intelligence has gathered that Daiwa has recently made substantial advancements in the realm of robotics, and despite the difficulty of breaching Japan's borders they are determined to learn these valuable trade secrets. In order to make this happen, Vexille and her boyfriend Leon (voice of Shosuke Tanihara) will have seventy-two hours to lead their team into Japan, gather the information on Daiwa's robotics program, and get out. It's a secret mission that hasn't been officially sanctioned by the U.S. government, but could benefit that current leaders and politicians greatly. But once in Japan Vexille is separated from the group, and quickly discovers that Saito has been awaiting their arrival. Upon awakening in a barrio-like district that was once the capital of Japan, Vexille quickly teams with resistance fighter Maria (voice of Yasuko Matsuyuki) - a former girlfriend of Leon's who also harbors a growing grudge against Daiwa. Later, after Vexille gathers the necessary resources and locates the rest of her team, she, Leon, and Maria lead a daring attack on Daiwa's artificial, offshore fortress. ~ Jason Buchanan, Rovi
Critic Reviews for Vexille
Audience Reviews for Vexille
Excellent animation and an interesting story combine in this action sci-fi success. The voice work is sometimes clunky, and the characters are all dull as dishwater. In fact, I can't really tell you about the characters, they are all fairly similar. Despite this flaw, the action scenes are fantastic. Chases, robot fights, fast and well edited cuts, this is how action scenes should be seen. As a combination of both robot/zombie film, it would have been better for some not so obvious mad scientists. Enjoy the action, and try and make it through the dialogue.
Luke Baldock
Super Reviewer
½
If you want action scifi, this is what you need to watch. This movie marks the point at which "stunning modern visuals", meaning the CG style, is no longer enough to keep me satisfied. The way I see it, this style of animation is the new standard so it can't be visuals only like FF:The Spirits Within. Many of this story's elements are very similar to Appleseed. They fit the same sub-genre of scifi and have essentially the same protagonist. So though the template of a heroine in a war-ridden future grappling with the issue of android life is the same, many unique elements exist such as the giant masses of metal called "jags", the future vision of Tokyo Japan, and the uncovered root of the conflict.
_kelly .King
Super Reviewer
Um, I just have to say that Vexille looks like a cool video game. I don't know if that's a good thing, though. The story was a bit "meh" and the characters didn't really jump out at me. A decent movie, but I'm glad that I rented it instead of buying.
Vexille Quotes
There are no approved quotes yet for this movie.