V/H/S: Viral
(2014)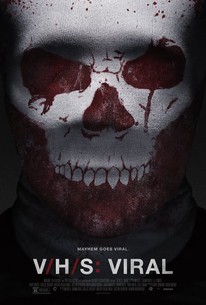 Movie Info
A police chase after a deranged ice cream truck has captivated the attention of the greater Los Angeles area. Dozens of fame---obsessed teens flock to the streets with their video cameras and camera phones, hell---bent on capturing the next viral video. But there is something far more sinister occurring in the streets of L.A. than a simple police chase. A resounding effect is created onto all those obsessed with capturing salacious footage for no other purpose than to amuse or titillate. Soon the discovery becomes that they themselves are the stars of the next video, one where they face their own death. (C) Magnet
News & Interviews for V/H/S: Viral
Critic Reviews for V/H/S: Viral
Audience Reviews for V/H/S: Viral
Following on from my stle of review from previous entry, V/H/S/2, I'll just bne giving my quick thoughts segment by segment, rather than the whole thing (star rating is still for Viral overall though). Vicious Circles: Of the various framing devices found across the V/H/S franchise, "Vicious Circles" is the best/makes the most sense, but it wasn't great or anything. Dante the Great: The most fun of the entries across the whole series. It does stand out in a bad way a little bit, firstly because it's a combination of fake "found footage" and fake "documentary" which... Like it's weird to have sat through all these shorts and then suddenly have a guy giving an interview to a camera crew, and secondly because I think calling it horror is a stretch. More of a... Fantasy-action-comedy with some heavy gore right at the end. Parallel Monsters: Has the same problems as the previous film's "Safe Haven" entry, but fewer pros to counterbalance it. Could probably be explored in a full length movie to better effect, but even that I'm unsure about. Bonestorm: The silliest and worst acted of the entire franchise, which truly is saying something. Would probably make more sense as something outside of a V/H/S film, say... playing silently on a loop on a TV in a skateboard shop, for instance. Gorgeous Vortex: The "hidden" V/H/S: Viral entry is an odd one. The only thing it has going for it is also the dumbest thing about it. It's a 15 minute movie that is entirely aesthetic in value, the first and only entry with good video quality. But this is supposed to be a collection of crappily filmed, glitchy footage, copied over to VHS tapes - so in what universe does it make sense?
Radically departing from the series format, V/H/S: Viral is an inexplicable mess that's appallingly bad. The film doesn't follow its own rules, as a lot of the videos don't conform to the conventions of found footage (and some of the videos aren't even found footage). And this might be excusable if the videos were any good, but most of them aren't. V/H/S: Viral doesn't know what it's doing, and ends up turning out garbage.
Dann Michalski
Super Reviewer
The third installment in this fairly admired cult series, is not only the worst in the series, but maybe the worst film I've been subjected to in a year that has already seen two Adam Sandler and three Kevin Hart movies. Read the rest of my review at: http://www.examiner.com/review/v-h-s-viral-worst-film-of-the-year Follow me on Twitter @moviesmarkus
Markus Robinson
Super Reviewer
V/H/S: Viral Quotes
There are no approved quotes yet for this movie.