Vice
(2018)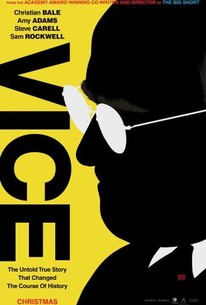 TOMATOMETER
AUDIENCE SCORE
Critic Consensus: Vice takes scattershot aim at its targets, but writer-director Adam McKay hits some satisfying bullseyes -- and Christian Bale's transformation is a sight to behold.
Movie Info
VICE explores the epic story about how a bureaucratic Washington insider quietly became the most powerful man in the world as Vice-President to George W. Bush, reshaping the country and the globe in ways that we still feel today.
Audience Reviews for Vice
Despite being a bit messy and juvenile in its first half - like something made by that 13-year-old cousin of yours who just learned how to use Windows Movie Maker and is so full of himself - the film gets considerably better later, when the gimmicks become wittier and the sarcasm sharper.
Carlos Magalhães
Super Reviewer
½
I really enjoy Adam McKay's writing and directing style, and while he doesn't do as well on this film as he does on The Big Short, his writing and directing styles are on full display. Part of me wishes he toned that style down a little bit to better balance the humor with the truths in this film, but to ask that of him is to ask him to go against his natural directing techniques. Pair this with possibly the best performance given from one of the best actors in Hollywood, Christian Bale, and you'd think this film would be amazing, but a lot of little problems like pacing issues, over-the-top directing decisions and lulls in the story keep this film from reaching the heights it could have reached, but it is still an enjoyable film nonetheless.
Sanjay Rema
Super Reviewer
½
Known for directing comedies like Anchorman: The Legend of Ron Burgundy, Step Brothers, and The Other Guys (just to name a few), Adam McKay has been taking a slight deviation from his old style. Having recently directed the acclaimed film The Big Short, his comedy met his drama and formed a mesh that a lot of viewers loved. Personally, I wasn't a huge fan of his previous film, so I was a little hesitant on Vice. With that said, Vice is surprisingly one of the best movies that 2018 had to offer. I love when biopics have the freedom of not taking itself too seriously. Yes, there are some very touchy subjects sprinkled throughout the course of this movie, but I had a blast watching it. Aside from awards shows, I don't hear many people talking about this movie, which is a shame, because it's fantastic. Maybe I just wasn't all that invested in politics enough to know this story, but I found myself very surprised throughout the course of this movie, mainly due to the core focus on Dick Cheney. Vice follows Cheney's rise to power in a very quiet fashion. Having never once been elected President of the United States, his impact on the government was huge. Being an insider who went from bringing people coffee to pretty much running the show for George W. Bush during his Presidency, this story was ripe for exploration. George W. Bush felt obligated to run for President, which in turn made him need a knowledgeable and ambitious person to help him along the way. There are many ways this story could've fallen apart as a feature film, but due to the talent involved, Vice is one of the best of the year. From Christian Bale delivering a stellar, dedicated performance as always, to Sam Rockwell delivering an offbeat and likable performance as George W. Bush, to the likes of Amy Adams and Steve Carell who've always been likable, Vice is littered with terrific performances. Those performances are expected by these people, but I do believe Adam McKay has something to do with that. Whether it's in his older comedies or his recent dramas, he knows where each of his performer's strengths are and showcases them first and foremost. Even in the slower moments of the film, I found myself incredibly engaged, due to the fact that these performances felt so real. Not only do these performances make this a better film, but this is a screenplay that impressed me quite a bit as well. Having also been written by Adam McKay, he clearly knew the story he wanted to tell from start to finish. He chose the most interesting period in Dick Cheney's life and went with it. From incredibly weird and interesting choices in terms of where the story starts and stops throughout the course of the movie, I was kind of amazed at how a few scenes didn't crash and burn. Some audiences may find certain choices very strange, but I thought they were experiments that paid off. I can't wait to see what he comes up with as his next project. In the end, Vice is the kind of film that would jump at the opportunity to be nominated for numerous awards, but it's also one that deserves the recognition it's receiving. Many of the critics seem to be mixed on this particular film, but that actually shocks me. From weird (in a good way) editing choices to bizarre songs choices, Vice is a movie that meshes a lot of elements together to form a film that feels more like an experiment than a finished product, but that experiment just worked for me in nearly every way. I loved watching Vice and I highly recommend it.
Vice Quotes
There are no approved quotes yet for this movie.