The Vicious Kind
(2009)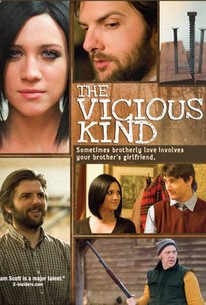 Movie Info
Untrusting of women following a bitter breakup on the eve of Thanksgiving, a misanthropic construction worker finds himself inexplicably attracted to his younger brother's new girlfriend. Caleb Sinclaire (Adam Scott) has just been through a particularly difficult breakup. Isolated, yet strangely contented with his newly single status, Caleb wears his distain toward women as a macho badge of honor. However, when Thanksgiving weekend arrives and Caleb meets his younger brother Peter's (Alex Frost) new girlfriend, Emma (Brittany Snow), his initial attempts to convince his sibling that the relationship will yield nothing but pain are quickly sidelined by his growing attraction to the beautiful girl. His vulnerability gradually bubbling to the surface over the course of the holiday weekend, Caleb is soon forced to confront the feelings that he's been trying so desperately to conceal beneath a swaggering facade. ~ Jason Buchanan, Rovi
Critic Reviews for The Vicious Kind
Audience Reviews for The Vicious Kind
I haven't really seen Adam Scott in anything, but his turn in this dramatic role is indeed vicious but also vulnerable. Caleb's insulting outbursts cut with vitriol, and his blubbery apologies pour with nonsense that he can't quite understand himself. I'm not really sure of the movie's premise - the only way Caleb knows how to protect is brother is by hurting him and that's why he sleeps with his brother's girlfriend...? The motifs of desperate need and succumbing to attraction because of the other person's attraction to you are all interesting, but the ending shows no real aftermath of that behavior.
Alice Shen
Super Reviewer
Secrets and lies unfold in a troubled family when a man develops a lustful fascination with his brother's girlfriend when the latter brings her home for Thanksgiving. Adam Scott's performance in this deftly constructed family drama is everything I've heard it was and more. His crying scenes are as convincing as his most vicious outbursts, and Scott conveys an emotional truth that is rarely seen but always enjoyed. In many dramas we see characters say nasty things to each other, and not seconds later, they either apologize or give that regretting look, which is supposed to convey to the audience that even though this character just did something we should disapprove of, we should still like him/her. It's false and performative, but I've learned to put up with it. When the script calls for such moments, Scott's strength is he makes such moments work, incorporating them into the manically depressive nature of Caleb; other times, Scott doesn't care if we don't like Caleb. Brittany Snow manages to be both alluring, vulnerable, and strong, while Alex Frost is perfectly douchey. And who knew that J.K. Simmons could handle drama with such emotional range and dexterity? The script starts off very well. The ways in which information is hinted at and slowly revealed are quite deftly carried, and most of the characters are finely drawn. However, by the end of the film, there were a few bits so ridiculous that writer/director Lee Toland Krieger deliberately aimed for laughs in the most awkward places. Also, the film's penultimate moment was so subtle that it slipped into obscurity. The last ninety minutes were leading up to this moment, but we don't know enough about what goes through the character's head to get a fair idea of what happens in these characters' lives after the film has ended. The smile, if it is a smile, is too enigmatic to hinge the entire film on. Overall, this is an excellent film with just a few minor flaws and what should be a star-making performance by Adam Scott
Jim Hunter
Super Reviewer
½
Kind of odd and offbeat, but it was enjoyable to watch. Very interesting chemistry of characters.
Leigh Ryan
Super Reviewer
The Vicious Kind Quotes
There are no approved quotes yet for this movie.