Vida Sin Rumbo
(1983)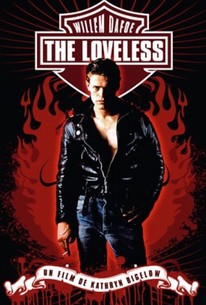 Movie Info
Un grupo de motociclistas con rumbo a las carreras en Daytona, paran en un pueblo pequeño en Florida en los años cincuenta. Willem Dafoe, Robert Gordon, Marin Kanter, J. Don Ferguson, Tina L'Hotsky, Lawrence Matarese, Danny Rosen, Phillip Kimbrough.
Critic Reviews for Vida Sin Rumbo
Audience Reviews for Vida Sin Rumbo
Did this movie have a story? You can't even tell, since nothing happens at all. I did not care for this movie, and I don't recommend it.
Kathryn Bigelow's feature debut is an assured, vibrant and detailed biker flick set in evocative 50's small town America. There's not much in the way of plot and the script is basic (but natural) and much of the pleasure of the film is in the way it looks more than what is being said. Interesting that the bikers themselves are rather a peaceful bunch, more interested in shooting the breeze, drinking cola and listening to rock n roll on the jukebox than causing any real trouble - it's the locals, their prejudices, and the sins of a father that lead to the brief but memorable violence. A fascinating flim.
Daniel Parsons
Super Reviewer
½
It was worth it to see Willem Dafoe as a fifties biker in the same light as The Wild One, but the script was just not strong enough. It had a lot of bizarre stereotypes for the time that just didn't fit and almost nothing happened until the very end. I liked a lot of the cinematography and it really could have been a great movie if it would've had a more interesting plot and supporting characters.
Conner Rainwater
Super Reviewer
Vida Sin Rumbo Quotes
There are no approved quotes yet for this movie.