Video Games: The Movie
(2014)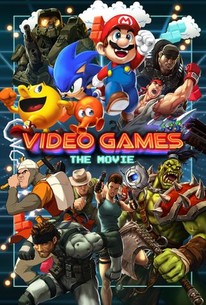 Video Games: The Movie Photos
Movie Info
From executive producer Zach Braff and director Jeremy Snead, VIDEO GAMES: THE MOVIE is an epic feature length documentary chronicling the meteoric rise of video games from nerd niche to multi-billion dollar industry. Narrated by Sean Astin and featuring in-depth interviews with the godfathers who started it all, the icons of game design, and the geek gurus who are leading us into the future, VIDEO GAMES: THE MOVIE is a celebration of gaming from Atari to Xbox and an eye-opening look at what lies ahead. (C) Variance
News & Interviews for Video Games: The Movie
Critic Reviews for Video Games: The Movie
Audience Reviews for Video Games: The Movie
Polished edu-tainment docu-movie. Good Documentary! Simply a great documentary telling the development of console games from then to now - this is not a film just for geeks and gamers - it really is a great watch in itself. Director, Jeremy Snead with brilliant editing by Kenny Price have put together a film that shines with love and care. Above all this like the best documentaries is informative and captivating - we not only have interviews with some of the best in the game world and its greatest fans - it does so without resorting to cliché or derision - it clearly is made by a team who care and love their project. That it was partially financed by Kickstarter is notable; sure there is an element of ploy in doing that, but it is a commendable one. Above all, it conveys some of the fun and wonder that gaming produces going from Pong to Ryse and beyond it is filled with gaming clips, music, and a strong streak of both nostalgia and insight and anyone, gamer or not, should enjoy it, it is simply an excellent documentary well made and a very good watch. Video Games: The Movie, a feature length documentary, aims to educate & entertain audiences about how video games are made, marketed, and consumed by looking back at gaming history and culture through the eyes of game developers, publishers, and consumers. The film is not just another film about the games industry, but attempts something much more ambitious; the question of what it means to be a 'gamer', a game maker, and where games are headed. Storytelling and the art of the video game medium are also explored in this first of it's kind film about the video game industry & the global culture it has created.
Preachy and repetitive, "Video Games: The Movie" may have some interesting elements to go along with it, but in retrospect, a group of guys sat down and researched the history of Video Games and made a documentary about it before anyone else had the chance. For these exact reasons, the film feels rushed and a waste of potential lingers all around it. Sean Astin narrates and there are a few celebrity cameos giving their insight on the industry and those elements were effective. You really do get invested in most of this picture as it progresses, but it's very formulaic (year, explanation of consoles, the future, year, explanation of consoles, the future, and so on). I am rarely ever harsh on documentaries, because they are made solely for those who are intruiged by that subject matter, but since I am intruiged by the evolution of games, I expected much more. Everything displayed and talked about in this film could have been found online by a 10 year old kid. "Video Games: The Movie" would have been better in different hands and with more exploration.
Whilst not offering anything really new and missing out on parts of gaming that I felt needed to be covered in more depth this is still very interesting to watch. If only to see how far gaming has come and still has to go.
Ian Walker
Super Reviewer
Video Games: The Movie Quotes
There are no approved quotes yet for this movie.