Video Nasties: Moral Panic, Censorship & Videotape
(2010)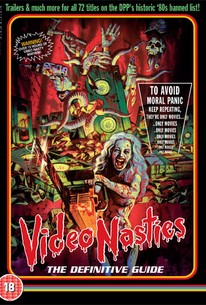 Video Nasties: Moral Panic, Censorship & Videotape Photos
Movie Info
Evil Aliens director Jake West takes a break from making his own gory creature features to examine the wave of boundary-pushing genre films banned by Britain's Director of Public Prosecutions in the early 1980s, and the public scandal that erupted in the aftermath of the authoritarian act of censorship.
Critic Reviews for Video Nasties: Moral Panic, Censorship & Videotape
Audience Reviews for Video Nasties: Moral Panic, Censorship & Videotape
A good doc about the video nasties scare in Britain spear headed by the miserable cunt Mary Whitehouse and her cronies, goons, minions.... whatever. Basically the scare was that movies like Cannibal Holocaust, Last House on the Left, Evil Dead, I Spit on Your Grave, Driller Killer etc, were going to corrupt the morals of the youth (and their dogs) and so these movies had to be swiftly censored, banned and outlawed. It was intresting hearing the story of exactly how they managed to get such a bill passed, and the people responsible for doing so definently come off like a bunch of arrogant, clowns. some of the talking heads in this movie argues that the real point of the video nasty scare was more about control than morals or anything of that ilk, and I do tend to agree with this argument. The reality is independent film was booming for a short period of time, as it was easier to manufacture and distribute films outside of the television networks and cinemas that existed before that. The short period before the video nasty square were akin to a wild west for independent and underground film, and finally films that challenged certain taboos were readily available, unregulated and making pretty good business on top of that. Something clearly needed to be done to get the huge film industry suits back in control. It's scary to see how easy it is to manipulate people and get them to go along with one of the stupidest cases of censorship and control of media in the sadly, far too huge steaming shit pile that happened before this case and even goes on today. Keep in mind that Murder Set Pieces, Groteque, A Serbian Film and Human Centipede 2 have all been banned or heavily censored in the UK within the past 10 years. An important watch for those opposed to censorship laws, and champions of free speech and expression.
Ed Fucking Harris
Super Reviewer
½
Brilliant documentary about the Video Nasties era of the 80's. In mid-80's Britain, when Margaret Thatcher was priminister and there was a recession n stuff, the goverment became a bit like a dictatorship and because crime levels were rising due to people having no money the only thing they could think to blame it on was the current wave of horror movies being available to rent in local video shops. Alot of these films were pretty shit B-movies with lots of blood, bad acting and little plot to speak of but because of the gore and violence the goverment decided this was causing moral panic up and down the country, infecting the youth, making people steal and mug people so banned them all. Featuring contributions from various horror film makers who grew up watching them along with academics and film journalists and politicians for and against the censors, this is a very interesting documentary that makes you think about how corrupt and power hungry this goverment was and if these movies really could be an influence on the woes of society back then. The most reasonable answer you get from watching this is a big fat fucking NO! The DVD is brilliant as its a three disc affair and shows all the trailers from the films that were banned and stayed on the list for years and the ones that were eventually removed. You can choose to watch these with intoductions from the various experts mentioned above or without, which is a cool thing as they go on for ages. Altogether, the doc, all the trailers and a montage of all the old title logs for the dodgy 80's distribution companies last for over 13 hours! I paid 20 pounds so its definate value for money. Essential viewing for any film fan.
½
An in-depth, eye opening look at the witch-hunt of horror movies during the early 80's in England. Some of it made me laugh (horror films affect not only children but dogs too, apparently) and some of it just made me disgusted with the governments insane ideas to control the masses. Overall a comprehensive look at this controversial period of injustice to the horror genre. And Martin Barker is my new hero, God bless him.
A.D. Villarreal
Super Reviewer
Video Nasties: Moral Panic, Censorship & Videotape Quotes
There are no approved quotes yet for this movie.