Video Vixens (Black Socks)
(1975)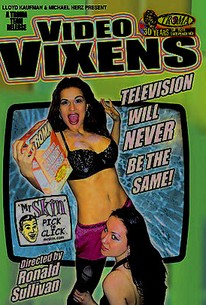 AUDIENCE SCORE
Critic Consensus: No consensus yet.
Critic Reviews for Video Vixens (Black Socks)
There are no critic reviews yet for Video Vixens (Black Socks). Keep checking Rotten Tomatoes for updates!
Audience Reviews for Video Vixens (Black Socks)
Not a great movie by any means, but I found it funny and enjoyable.
Video Vixens is one of the funniest sexploitation comedies around. Norman Field (Sweet Sweetback's Baadasssss Song, The Godson) is WKLITT television executive Clifford Bradley, paranoid of a conspiracy to deprive Americans of their sexual desires via added ingredients in the soap. He decides to cancel regular programming and put on a stag film awards show to reinvigorate America's sex life. George "Buck" Flowers (Taking It Off) as porn auteur Rex Boorski, is put in charge of making it all happen. Especially notable is Harrison Phillips as Gordon Gordon, film critic for Bradley's station, who is as prude as they come! He is ordered, much to his own mortification, to host the gala event. All three give incredibly tight performances. If you can get past the jokes about rape, something one is expected to do in films by Almodovar and Waters, Video Vixens works well even as a commentary of modern television twenty five plus years after its initial release. Broadcasting the Porn Academy Awards is not that far off in a society where a lesbian kiss on Ally McBeal gets high ratings and the use of four letter words and bare buttocks qualifies as breakthrough television. Plus the commercial and film parodies work well within the structure of the plot (like those in Putney Swope). Add to all of this the star power of sexploitation veterans Marie Arnold, Sandy Dempsey and Rainbeaux Smith, this film not only delivers the skin but also an entertaining plot and plenty of laughs to go along with it. That's something even Gordon Gordon would approve of!
Cassandra Maples
Super Reviewer
Video Vixens (Black Socks) Quotes
There are no approved quotes yet for this movie.