Village of the Giants
(1965)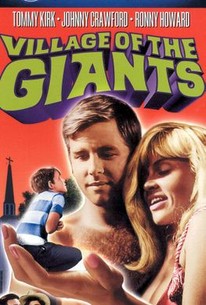 Village of the Giants Photos
Movie Info
A young boy genius creates a powerful growth formula with his chemistry set in this campy sci-fi film. Havoc ensues when this formula is ingested by a group of local teenagers, who soon grow to enormous size and threaten to destroy the town if their demands are not met.
Critic Reviews for Village of the Giants
All Critics (5) | Fresh (0) | Rotten (5)
I'm certainly not going to try to claim that Gordon's 1965 film is any good, but it's such a mash-up of genres.. that you'd have to be a real grouch to not find some fun in it.
August 15, 2013 | Rating: 4/10
Camp fun.
April 1, 2005 | Rating: 2/5
Oh, it's bad. It's really bad.
February 2, 2003 | Rating: 2/5
Audience Reviews for Village of the Giants
Watching some of the old MST3K episodes available for streaming on Hulu and Netflix (there is a different random selection on each platform). Whether it is Joel or Mike watching these awful movies with the bots I do not envy their torture. Their snarky comments add some entertainment value, but my ratings are based on the movie's quality itself and not the commentary broadcast from the satellite of love. It's Mr. B.I.G. again, Bert I Gordon. With a bigger budget, some up and coming young stars, and loosely based on source material from H.G. Wells, Gordon still delivers unfortunate effects driven dreck. Many unintentionally funny moments like the giant feet being tripped by rope wrapped around by a motorcycle. The filmmakers decided to have the tiny adults shouting up at the giant teens mixed at a lower volume, however they go too far and it becomes a problem for understanding the advancing plot. Irresponsible, delinquent teens, including a young Beau Bridges want to dance, eat, and rule over the adults. These white kids are terrible dancers and are given pretty stupid lines to say. Tommy Kirk is another teen (really in his mid-20s like the other teens) who wants to profit from the accidental invention of the giant making chemical goo made by the kid brother of his girlfriend. Ron Howard plays this genius kid rambling off sci-fi mumbo-jumbo. The film is not really as smart about making social commentary about the generational divide as it thinks it is. Overall a silly outing.
Byron Brubaker
Super Reviewer
½
This has got to be the craziest teen movie of the sixties, in terms of plot I mean. A kid is working on a growth formula, teens accidentally take some and become giants who try to take over the world? Wow. This would be a good movie if these teens didn't spend half the movie dancing around and saying stupid lines. The ending is even more disappointing. I wouldn't recommend this movie.
½
You will be astounded.... by how bad this is.
Anthony Valletta
Super Reviewer
Village of the Giants Quotes
There are no approved quotes yet for this movie.