Vincent & Theo
(1990)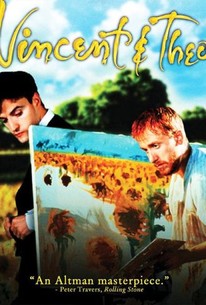 Movie Info
Robert Altman's masterful, sensitive portrait of Vincent Van Gogh (Tim Roth) and his brother Theo (Paul Rhys), based on letters written by the painter to his art-dealer brother is a beautiful story of love and compassion between two brothers. Altman unflinchingly shows Vincent, single-minded and intense in the increasingly desperate search to capture his unique vision on canvas, despite his horrible poverty and increasing mental illness. Theo, seeing his brother's genius -- and admiring and loving him despite Vincent's difficult personality and the strain this causes on Theo's own life -- sustains Vincent and tries to sell his work to an indifferent public. Finally, Vincent, in complete despair because of his illness, enters a sanitarium and spends several months of frenzied creative effort, producing some of his most beautiful and memorable paintings. When his work is finished, he kills himself. Theo, lost without his beloved brother, and himself very ill, soon dies. In a deeply insightful performance Tim Roth manages to capture the essence of the creative spirit and the pain and despair of mental illness. The final scenes of the movie, as Vincent hurries to finish his work, are profound and sensitive. Roth deeply understands and communicates Vincent's complex, and at times unpleasant, character as well as his genius. Paul Rhys is also unforgettable in a loving, compassionate but unsentimental performance. Rhys effectively communicates Theo's love for Vincent despite his flaws -- which explains why Theo is willing to sacrifice much of his own life to sustain him. Impeccably accurate, Vincent and Theo ranks as one of best biographical films ever made. It was originally aired as a four-hour mini-series on European television.
Critic Reviews for Vincent & Theo
Audience Reviews for Vincent & Theo
½
Despite an awful score and how the narrative seems sometimes as fragmented as the characters' psyches, this biopic impresses us with a beautiful cinematography and art direction, as if seen from Van Gogh's own eyes, and it has Tim Roth and Paul Rhys in fantastic performances.
Carlos Magalhães
Super Reviewer
Vincent and Theo features the quirky, voyeuristic style of Altman and has Roth in an intense but human role. I am only vaguely familiar with the story of Van Gogh; I cannot tell whether I would find the plot better or worse if I did know the story. As it is, I find the plot neutral but rate the film up a bit based on the actor / director pairing. Recommended to fans of Altman and Roth.
Robert Brogan
Super Reviewer
While I sentimentally love the Doctor Who version of Vincent Van Gogh, this is the definitive dramatic take of an artist on the brink of madness with few pennies to his name.
John Ballantine
Super Reviewer