Vipers
(2008)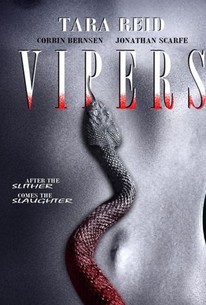 AUDIENCE SCORE
Critic Consensus: No consensus yet.
Movie Info
When a mishap at a remote medical research laboratory unleashes a mass of genetically enhanced vipers on a nearby seaside community, the only hope for survival is to make it to the shore before the snakes and hope for the best. It was supposed to be a secure facility, but when thieves broke in to the classified medical research laboratory they unwittingly unleashed hell on the unsuspecting locals. Now, as the ravenous vipers begin to reproduce at an alarming rate, they quickly begin to outnumber the residents of a remote island, who barricade themselves in a hotel in a desperate bid for survival. No one seems to know whether help will arrive in time or not, and as the lobby floor becomes a sea of hungry snakes, the only hope for escape is to run for shore and never look back. Tara Reid stars.
Critic Reviews for Vipers
Audience Reviews for Vipers
½
Killer snakes with extra powerful venom. MAMA MIA! Who would have funked it? Vipers isn't quite cheesy enough to be amazing, nor is it good enough to be an essential viewing. There are some nice kill scenes, with the snakes being more like piranhas as they strip the flesh from their victims bones. We also get some classic lines such as "Homeland Security? This isn't terrorism, these are snakes." Reid is good in these kinds of films, and at least she's more believable here than in her miscast role in Alone in the Dark. The CGI passes the quality control level for a film of this type. Just a bit too samey and not enough stupidity.
Luke Baldock
Super Reviewer
½
A typical low budget B movie horror straight to DVD release. So corny and bad it actually becomes more of a comedy. Saying that the CGI wasn't half as bad as I have seen on other films. It also has a few familiar faces including Tara Reid. Good if you like low budget trashy horrors otherwise you'll want to avoid it.
Vipers Quotes
There are no approved quotes yet for this movie.