The Virgin Suicides
(2000)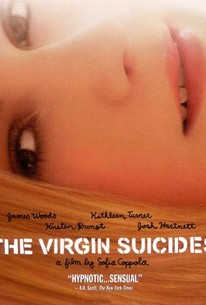 TOMATOMETER
AUDIENCE SCORE
Critic Consensus: The Virgin Suicides drifts with a dreamlike melancholy that may strike some audiences as tedious, but Sofia Coppola's feature debut is a mature meditation on disaffected youth.
The Virgin Suicides Videos
The Virgin Suicides Photos
Movie Info
On the surface the Lisbons appear to be a healthy, successful 1970s family living in a middle-class Michigan suburb. Mr. Libson is a math teacher, his wife is a rigid religious mother of five attractive teenage daughters who catch the eyes of the neighborhood boys. However, when 13-year-old Cecilia commits suicide, the family spirals downward into a creepy state of isolation and the remaining girls are quarantined from social interaction (particularly from the opposite sex) by their zealously protective mother. But the strategy backfires, their seclusion makes the girls even more intriguing to the obsessed boys who will go to absurd lengths for a taste of the forbidden fruit.
News & Interviews for The Virgin Suicides
Critic Reviews for The Virgin Suicides
Audience Reviews for The Virgin Suicides
½
Dark almost to the point of not being able to enjoy it, tonally uneven to the point where you don't know how you should be feeling through some scenes, and distant from anything Sofia Coppola has really done. "The Virgin Suicides" is that type of film that you need to know what to expect or you could be on the verge of tears the whole way through. Everything happens nonchalantly throughout this picture and they parents' performances were not believable enough to really feel for losses. The first scene in the film kind of gives the ending away and leaves you expecting it, but in a way that is a good thing considering what this film has in store. I would not say that I particularly enjoyed or disliked this film. Well-written, well-acted, awkwardly executed, and distinctively shallow. "The Virgin Suicides" goes back and forth from great to bad in a matter of seconds. If you like dark films, you will love this movie, but if you are looking for something lighthearted, stay very far away. Either way, I am not a fan of the film as a whole.
At first glance, it might seem like this is some flowery chick flick based on a piece of estrogen soaked chick lit. That is actually not the case at all, and I was pleasantly surprised by what this really turned out to be. It just amazes me that it took me this long to finally start getting into the films of Sofia Coppola. The story takes place in 1970s suburban Minnesota and is about the seemingly normal yet highly reserved and mysterious Roman Catholic Lisbon family- led by the old fashioned homemaker mom and math teacher father, and featuring five gorgeous daughters all of whom range in age from 13-17. The film is an examination of this family, and the eventual suicides of all five girls told in retrospect from the points of view of various neighbors, especially a group of boys whose infatuations and fascinations with the girls only increases as the girls' parents try to keep them more and more secluded and sheltered. The material sounds dark, and it is, but the tone and the way it is handled makes the film very watchable, even ethereal thanks to the score and cinematography. The film is really best looked at as a darkly comedic dramedy punctuated by satire and subtext. I've not read the book, but research tells me that the film is rather faithful (especially in spirit) to the source material even that the latter has an unconventional narrative structure. Also, I'm sure the book further elaborates on the elements of subtext, if not making them a bigger focus. I found this to be a very enjoyable and dreamlike film, and, though it is really good, it seems even more so considering that it was the feature length debut of Sofia Coppola. For this to be a debut is a pretty good sign, and, though her career has had a few ups and downs, I'd still like to think that Coppola remains an important director, just like how her father used to be (but unfortunately still isn't). James Woods and Kathleen Turner are sublime as Mr. and Mrs. Lisbon, Kirsten Dunst, Hanna R. Hall, Chelse Swain, A.J. Cook, and Leslie Hayman are all really good as the Lisbon sisters, Josh Hartnett showed some real star potential as Trip the love interest of Dunst's Lux, and Giovanni Ribisi hits all the right notes and puts in fantastic work as the film's narrator, conveying a great sense of both maturity and youthful wonder. I think this is a very solid film, and I really enjoyed it, though I don't think it's quite a masterpiece. Some might find the film's conclusion unsatisfying, but, without getting into it, I think that might have been the point. This is one of those cases where it's not about the destination but the journey, and I love those types of situations (for the most part). I could have used more detail, but at the same time, I loved the subtlety and the way the film used imagery, music, and sometimes silence to provide the answers instead of just outright saying it, although even this technique isn't always totally subtle. Bah. I'm rambling. I apologize. I must say I'm impressed that not only is this film not a chick flick, but it''s got a nice sense of nostalgia and depth. I wasn't sure if I'd enjoy a film about suicide, and, though the film does have its somber moments, it's filled with good sequences, evidence of real talent, and hits a tone that makes it all work. Give this one a look. It's pretty good.
Chris Weber
Super Reviewer
½
A dark psychological drama disguised as a comedy about an offbeat, mysterious family, specifically their five girls and how their parents (James Woods, Kathleen Turner) start to take their hands off their leashes after one of the girls (Hanna Hall) takes her life. This includes involving more males their own age into the picture as suggested by their psychologist (Danny DeVito) in hopes of getting them more socially acclimated. This movie, like its characters, is a puzzle. In one way, you feel like it leaves a lot to be desired in how it does not get you inside the heads of it characters. However, in another sense, you get the feeling that is exactly what director Sofia Coppola was aiming for, a true outsider's perspective of the whole situation. It is far from perfect, but the acting is definitely outstanding, especially Kirsten Dunst as one of the girls who does not know how to handle her newfound sense of freedom. Be warned, while it is darkly funny in spurts, this is a sad, depressing film about family and keeping ones kid's sheltered for too long. With that said, it is an effective movie that will not leave your mind quickly.
Dan Schultz
Super Reviewer
The Virgin Suicides Quotes
| | |
| --- | --- |
| Tim: | We began the impossible process of trying to forget them. |
| | |
| --- | --- |
| Mrs. Buell: | That girl didn't want to die, she just wanted out of that house. |
| | |
| --- | --- |
| Trip Fontaine: | You're a stone fox. |
| | |
| --- | --- |
| Dr. Hornicker: | "What are you doing here honey? You're not even hold enough to know how bad life gets." |
| Dr. Hornicker: | What are you doing here honey? You're not even hold enough to know how bad life gets. |
| Cecilia: | "Obviously, Doctor, you've never been a 13-year-old girl." |
| Cecilia: | Obviously, Doctor, you've never been a 13-year-old girl. |