Vital
(2005)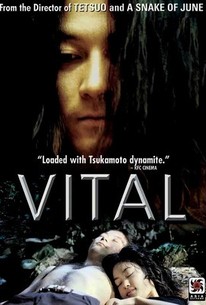 Movie Info
An amnesiac medical student's memory of his lost lover is reawakened when her body turns up on his dissection table. After barely surviving an auto accident, in which his girlfriend was killed, Hiroshi is unable to remember his former life. During his convalescence, all that comes back to him is his love of medicine, prompting him to enroll in medical school. While in anatomy class, as students dissect a human body for the first time, the young female corpse on Hiroshi's table triggers buried memories of his deceased girlfriend.
Audience Reviews for Vital
What was the point of this movie is beyond me, sure, Tsukamoto is once more exploring the human mind and body. What he was trying to say with this movie? I have no idea, i can barely remember seeing it. I must be missing something, but even if the movie has a good point about...anything at all, it feels cold and distant regarding the subject.
Tsubaki Sanjuro
Super Reviewer
½
Art-house movies aren't usually my cup of tea but the morbid nature of the story interested me enough to capture my attention. It's about a guy that survives a car accident but looses his memory in the aftermath who then enroles in medical school and his memory soon starts to come back to him slowly during his dissection classes as he unknowingly starts to cut up the dead preserved body of his former dead girlfriend. It's a tad slow but quite beautiful and hypnotic to look at and the story is touching and emotional without being too melodramatic. It won't be for everyone, and even though I didn't find it great, it ended up being a pleasant surprise.
½
Somber, fascinating film about one man's journey to reclaim his memory of his life and love... while he dissects her corpse. Not as graphic as it sounds, this is a very adult film that probes identity and emotion without really wallowing in the visceral.
Vital Quotes
There are no approved quotes yet for this movie.