Viva Maria!
(1965)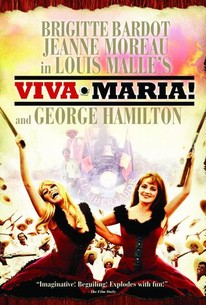 AUDIENCE SCORE
Critic Consensus: No consensus yet.
Movie Info
Viva Maria is the comedic story of two gorgeous women circus entertainers (Brigitte Bardot and Jeanne Moreau) who become involved with revolutionary politics in Latin America. Bardot plays the daughter of an Irish radical who was killed in Central America. Left alone, she eventually meets up with a circus which features Moreau, and the two women devise a popular song-and-dance routine. While the circus is travelling through Latin America, the two women become moved by the plight of the peasants, and decided to become revolutionaries themselves.
Critic Reviews for Viva Maria!
All Critics (3) | Fresh (1) | Rotten (2)
One of Louis Malle's strangest, most eccentric films, this satire of political revolutions is visually spectacular, pairing France's two most popular stars: Brigitte Bardot and Jeanne Moreau.
It's a ludicrous commercial film that's about as empty as most costume extravaganzas, but because it's so genial has crowd-pleasing appeal.
Audience Reviews for Viva Maria!
Brigitte Bardot looks stunning (as usual) in this passable but unremarkable film that seems like a mere French shot at a Hollywoodian movie in Panavision, with superlative production values and a harmless, slapstick sense of humor that sometimes borders on the surreal.
Carlos Magalhães
Super Reviewer
After the death of her father, a daughter of a revolutionary joins a band of traveling musicians and actors before leading a revolution of her own. The best that I can guess about this film is that it's a satire of revolutions or revolutionary films. Many of the scenes are so over-blown and beyond practical conception that it's impossible to take them seriously. However, I can't be sure. The satire is far from clear. What is clear is how utterly annoying everything about this film is. The characters are broadly drawn types, the situations are ludicrous, and the attempts at comic bits are as bad as anything I've seen. I found myself counting down the seconds this film had left, and watching it became a chore. Overall, I hated this film even though there might be a mystery satire somewhere beneath all the bullshit.
Jim Hunter
Super Reviewer
½
Brigitte Bardot and Jeanne Moreau frolic round early 1900's Central America, leading a revolution, blowing things up, and inventing the striptease along the way. Sounds good? Sadly, that's not really the case. Bardot, Moreau and Malle have all done better things.
Viva Maria! Quotes
There are no approved quotes yet for this movie.