Vivacious Lady
(1938)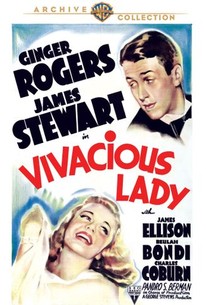 Movie Info
James Stewart and Ginger Rogers were "an item" when Vivacious Lady was filmed, and their obvious real-life affection for one another pours over onto the screen. Stewart plays Peter Morgan, a young botany professor who while on a visit to New York impulsively marries free-spirited nightclub singer Francey (Rogers). A few obstacles lie in the path of connubial bliss, however, including Peter's bitchy ex-fiancee Helen (Frances Mercer) and his stern college-dean father Peter Morgan Sr. (Charles Coburn). Hoping to break the news of his marriage gently to Helen and his father, Pete contrives to keep the union a secret, with the expected embarrassing results. Before the final fade-out, both Morgan Senior and Morgan Junior are on the outs with their respective wives, and it takes an uproariously tearful reunion on a passenger train to straighten things out. In his first outing as a producer, director George Stevens shows off his two-reel-comedy training with a number of hilarious comedy setpieces (the best is a slapsticky cat-fight between the two rivals for Pete's affections), though things tend to slow down towards the end. Stevens also finds room for several of his favorite character actors, including Grady Sutton, Franklin Pangborn and Willie Best, to do their time-honored specialties. Best of all is Beulah Bondi as James Stewart's mother (one of several such assignments), delivering a most unusual and touchingly funny performance. In short, Vivacious Lady was a guaranteed box-office smash even before the cameras began to turn.
Critic Reviews for Vivacious Lady
Audience Reviews for Vivacious Lady
½
Although the star power is more than adequate here, the real heavy lifting is done by the writing staff whose purpose is to find reasons enough for coitus interruptus, over and over again, enabling the tension dynamic of the whole piece. How long can they do it? They do it for the length of the film. It gets tiresome after a bit, as it should.
Kevin M. Williams
Super Reviewer
I have troubles rating old movies very highly. I guess it is a product of their times, but the stories are quite simplistic. All the fuss because the younger Morgan can't come out and tell his parents that he is married.
½
rarely seen screwball comedy and the only screen pairing of rogers and stewart who were dating at the time. after a whirlwind romance, botany professor stewart tries to introduce his new bride, nightclub singer rogers, to the stuffy academic crowd, especially his father, university president charles coburn. many fun scenes and great chemistry among the cast. u just can't go wrong with drunk jimmy stewart
Stella Dallas
Super Reviewer
Vivacious Lady Quotes
There are no approved quotes yet for this movie.