Vox Lux
(2018)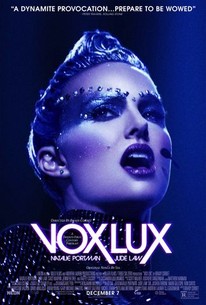 TOMATOMETER
AUDIENCE SCORE
Critic Consensus: Intriguing albeit flawed, Vox Lux probes the allures and pitfalls of modern celebrity with intelligence, visual style, and an assured Natalie Portman performance.
Movie Info
VOX LUX, A 21st Century Portrait, begins in 1999 when teenage Celeste (Raffey Cassidy) survives a violent tragedy. After singing at a memorial service, Celeste transforms into a burgeoning pop star with the help of her songwriter sister (Stacy Martin) and talent manager (Jude Law). Celeste's meteoric rise to fame dovetails with a personal and national loss of innocence, consequently elevating the young powerhouse to a new kind of celebrity: American icon, secular deity, global superstar. By 2017, adult Celeste (Natalie Portman) is mounting a comeback after a scandalous incident almost derailed her career. Touring in support of her sixth album, a compendium of sci-fi anthems entitled, "Vox Lux," the indomitable, foul-mouthed pop savior must overcome her personal and familial struggles to navigate motherhood, madness and monolithic fame.
News & Interviews for Vox Lux
Critic Reviews for Vox Lux
Audience Reviews for Vox Lux
Lots of vague ideas about "culture" are raised but by the midway point it becomes clear that the movie has little to say about anything. Its just a beautifully photographed vanity project.
Alec Barniskis
Super Reviewer
½
WHITE ELEPHANT - My Review of VOX LUX (1/2 Star) What a steaming piece of garbage. I almost want to leave it at that, but I consider it good therapy to work out what the hell I just saw. All I know is that it's truly terrible. Brady Corbet, an actor whose performances in MYSTERIOUS SKIN and FUNNY GAMES I've admired greatly, wrote and directed this mess, its overall intentions perhaps well-meaning but muddier than the water underneath the Santa Monica Pier. Even my attempt at a synopsis sounds batshit crazy. A young girl named Celeste experiences severe trauma which leads to her worldwide success as a terrible, whiny, narcissistic music sensation. Is it a commentary on terrorism or is it merely the second film this year (with A STAR IS BORN being first) to attack Lady Gaga's brand of dance pop? I suppose it's both, clearly biting off more than it can chew, but even though Portman doesn't appear until about halfway through the film, she's horribly miscast and unbearable from the word "go". I've loved many of her performances over the years, but her Long Island honk, coupled with her shouty, snotty line delivery here had me wincing throughout. Things start out promisingly enough, although humorlessly in an Atom Egoyan circa THE SWEET HEREAFTER sorta way, when young Celeste (Raffey Cassidy) finds herself dead center in a Columbine-style school shooting. The guilt she feels in the aftermath fuels the rest of the film. Had the character not become a famous star, but had simply stuck with her as a teen, I might have enjoyed this more. It plays like a quieter, simpler version of Gus Van Sant's ELEPHANT, and like my review title, it's a gift that nobody would want. Corbet wants to tie this together with the damaged goods many famous people turn out to be, and as such, it feels a little tasteless. Isn't it enough that, to quote Roxie Hart in CHICAGO, "none of us got enough love in our childhoods"? Corbet wants to make a statement about pop culture, but the result just feels endless and super annoying. Young Celeste sings an original song at a funeral and the footage of it goes viral and turns her into an instant star. Jude Law signs on as her manager, offering up sage yet dour advice as he watches his young charge turn into a glittering monster. Sia, also listed as a producer on the film, wrote the songs Celeste performs, and while melodic and cool, lose all of their power when sung by whatever is coming out of Portman or her singing stand-in's mouth. It's soft, whiny, and unbearable. And I LOVE pop music! I still applaud Corbet's ambition, but it lacks discipline. It smacks of a filmmaker with something to say and the desire to say it all in one movie. He genuinely knows how to create suspense, as evidenced in the first act, but he takes it to a place where we're subjected to a rich person complaining about getting their picture taken, and that's no fun under any circumstances. Same goes for this film, which I cannot wait to forget.
Glenn Gaylord
Super Reviewer
½
I don't know what this movie was trying to say about anything. Vox Lux stars Natalie Portman as the adult Celeste, a survivor of a school shooting as a teen who became an international pop star in the months after. Is there something writer/director Brady Corbet wants to say about the transformation of tragedy into mass entertainment? The dulling effect of an entertainment industry to grind up human beings and re-purpose them into shiny, inauthentic, easily marketable figurines? I don't know. I warily thought as we open on an upsetting school shooting, "I don't know if the final product will justify this tone," and it doesn't. There are decisions that feel like they should mean something, like having the same actress, Raffey Cassidy (Tomorrowland), play both young Celeste and her eventual teen daughter, but what? It feels like an idea looking to attach to an interpretative message. Then there's a modern terrorist group dressing like one of Celeste's iconic music videos. She distances herself from the violence and even publicly challenges the perpetrators. This will obviously come back and mean something, drawing upon her own beginning stages of fame derived from the bloodshed of others, right? Or during her big concert the terrorists will invade and attack her, bringing the main character face-to-face with the ramifications of hubris. None of these things happen. Instead, Portman enters the scene at the 45-minute mark and proceeds to lash out at others, lament her parenting deficiencies, gets drunk, and then puts on her show. That's it. It's like Vox Lux forgot to be a movie for the final 20 minutes and just becomes a numbing series of EDM pop dance numbers. Portman is actually very good and digging deep into her anxious, entitled, and spiraling pop star, rounding out her dimmed humanity when Corbet cannot. There's a solid storyline here between the adult Celeste trying to reconnect with her teen daughter who she's been neglecting. This isn't it. The pretension level of the pedantic exercise made me think of Lars von Trier as filmed by Darren Aronofsky. Skip it. Nate's Grade: C-
Nate Zoebl
Super Reviewer
Vox Lux Quotes
There are no approved quotes yet for this movie.