Voyage of the Damned
(1976)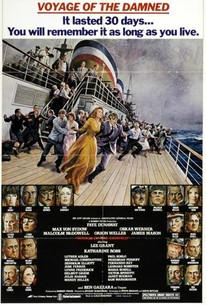 Voyage of the Damned Photos
Movie Info
In this film, based on a true story, the Nazis load a luxury liner with Jewish refugees. When the ship arrives in Cuba, the passengers are refused entry. This is what the Nazis wanted to happen, so they could "prove" that the Jews were the most unwanted race on Earth.
News & Interviews for Voyage of the Damned
Critic Reviews for Voyage of the Damned
Audience Reviews for Voyage of the Damned
½
The Nazis concieve a brutal public relations gimmick (based on a true story): if the world is truly so concerned about the plight of Jews in wartime Germany, how about this? They release a boatload of the condemned buggers and wait to see who embraces the lot. And guess what? No one does. Played as a typical 70's style, all star gathering of international talent it's actually better than it looks with some unexpected surprises, like Orson Welles as a dishonest Cuban politico and Kate Ross as a Jewish prostitute in Havana. Worth a look.
Kevin M. Williams
Super Reviewer
A tragic story from WWII where a group German Jews were allowed to sail to Cuba away from all the worries of the Nazi regime in Germany. To their horror the passengers are not allowed to get off the ship once they arrive in Cuban territory, so they are set to return to Europe where death awaits them. This movie is very memorable, I remember watching it many years ago and I still remember the story very clearly. The fact that the movie is based on an actual event is frightening, because it is difficult to imagine that this kind of cruelty against human beings still exists in our world. I believe that this movie must've been a huge hit back in the 70's, it is definetily a classic movie worth watching.
Naughtia Nahazhina
Super Reviewer
½
Tragic, shameful story of doomed real life trip of almost a thousand Jews refused entry first into Cuba and then many other countries just before the outbreak of WWII. Episodic in nature but with very fine performances especially by Lee Grant and von Sydow.
Voyage of the Damned Quotes
There are no approved quotes yet for this movie.