Voyage to the Planet of Prehistoric Women
(1968)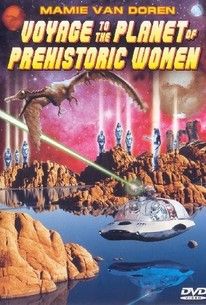 AUDIENCE SCORE
Critic Consensus: No consensus yet.
Voyage to the Planet of Prehistoric Women Photos
Movie Info
After crash landing on Venus, a group of human astronauts finds themselves under attack by the planet's unruly wildlife; fortunately, a race of beautiful Venusian women come to their aid. This sci-fi adventure combines footage from two earlier, unrelated films with a minimum of original material.
Critic Reviews for Voyage to the Planet of Prehistoric Women
There are no critic reviews yet for Voyage to the Planet of Prehistoric Women. Keep checking Rotten Tomatoes for updates!
Audience Reviews for Voyage to the Planet of Prehistoric Women
Pretend salaciousness hiding under the cover of supposedly serious science fiction, some astronaut types venture to Planet Venus, exploring and all that. They would've found some blondie babes swimming around if they'd've bothered to have looked, but they don't, and so that's the movie: some science types in globe-head spacesuits don't discover blondie Venus Babes ...it's kind've disappointing. Blah.
Kevin M. Williams
Super Reviewer
This film is in the Mill Creek 50 Movie Pack Sci-Fi Classics. After watching Voyage to the Prehistoric Planet a few weeks ago, I started watching this film and though that I was watching the same film as I watched a few weeks ago. After doing some research I found out that this was the same film as Voyage to the Prehistoric Plant with about 20 minutes of scenes with women clad in Bikini's and who communicate without talking, any guy knows that no matter what planet a women is from she is going to talk with her mouth LOL, anyway don't know how well this movie went over in 1968, maybe people forgot that they just saw most of this movie in 1965. Do I have to give a star, 1/2 star for wasting my time.
Bruce Bruce
Super Reviewer
½
Three cosmo---I mean, ASTROnauts---travel to Venus to rescue two stranded comrades and their robot, and encounter dinosaurs while a coven of sexy Venusian mermaids tries to impede their progress by praying to their pterodactyl god. This is the SECOND film Roger Corman dubbed and recycled by combining footage of Soviet space opera and with inserts of American actors, and oddly it's both more ridiculous and more coherent than VOYAGE TO THE PREHISTORIC PLANET. Worth the watch for camp fans .
Voyage to the Planet of Prehistoric Women Quotes
There are no approved quotes yet for this movie.