W.
(2008)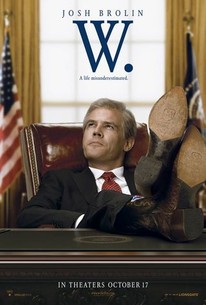 TOMATOMETER
AUDIENCE SCORE
Critic Consensus: A surprisingly sympathetic portrayal of the 43rd American president, W. is fascinating in spots, but merely rudimentary as a whole.
Movie Info
Whether you love him or hate him, there is no question that George W. Bush is one of the most controversial public figures in recent memory. In an unprecedented undertaking, acclaimed director Oliver Stone is bringing the life of our 43rd President to the big screen as only he can. W takes viewers through Bush's eventful life -- his struggles and triumphs, how he found both his wife and his faith, and of course the critical days leading up to Bush's decision to invade Iraq.
Audience Reviews for W.
½
It does a pretty decent job in humanizing an imbecile and making us almost sympathize with him as we see his efforts to prove himself to his family, but Oliver Stone plays it too safe and this semi-satire is also harmed a bit by its perfunctory jumps in time and random flashbacks.
Carlos Magalhães
Super Reviewer
½
I'm really conflicted about this movie, specifically what rating to give it. On one hand, it's an interesting movie, and I applaud Stone for having the balls to release it while Bush was still in office. On the other hand, there are a lot of issues going on. For one thing, maybe this film was released too early. It covers only a small portion of Bush's presidency, leaving a lot of important stuff out. It also seems confused about what it is trying to be, and the point it's trying to make. The one thing that it definitely makes clear, is that Bush has "daddy issues". That seems to be Stone's thesis, and he is mostly successful with it. However, the apporach being taken is a mess. The narrative and the tone are all over the place, the film is very selective with what episodes in time it features, and, even with the apparent pyshoanalytical approach, the film still feels a little pointless. It doesn't help that the pacing needs a lot of work as well. It feels longer than it is, and at 129 minutes, this is not good. Like I said though, the subject matter is interesting, and some of what is featured is rather fascinating. It would have been nice to see a balance between family stuff and political stuff though. The performances are terrific, and the casting is quite good, even though some of the actors' resemblances are a little spotty. They make up for it with their acting though. I give this film a mild recommendation, if only for the acting. I should give this film a 3, due to all of the flaws, but I liked it enough to feel comfortable giving it something higher. 3.5 is too much, but It'll have to do since there is no option for 3.25. I really want to know what happened to the old Oliver Stone. I'm not saying tihis film wasn't important enough to be made, but I really question the way it was handled. Stone used to be a master at sharp, insightful, and daring cinematic gems. This has very little bite or drive, and, even though I am not a fan of Bush, I'm glad this film wasn't a total condemnation of him. Still, it needs work.
Chris Weber
Super Reviewer
½
Well-acted and well-shot, but doesn't provide an answer to the question everyone was asking: why make a biopic about a president you hate? It's almost like Stone was just trying to be the first to put this history on film, writing Bush-isms from press conferences into implausible Oval Office conversations and unimaginatively imagining the relationship between the powerbrokers in the lead-up to the (second) Iraq War. Film, unfortunately, is a medium that can't help but glorify its subjects, and though the hackneyed script makes it evident that Bush is no hero, the total effect is one of idealizing the protagonist, and seemingly testing your ability to root for him. But unlike Cronenberg's Crash or Haneke's Funny Games, (or even American Psycho), this is isn't a brilliant examination of our urge to watch that which repels us; rather, it's a sloppy capitalization on generalized sentiment that, much like the WMDs all the president's men are seeking, never quite goes off. Over time, when the realities finally fade in our memories, this film may stand up better, but for the moment, familiarity breeds contempt. Even four years after its release, it's still too soon. This film is an effigy, a straw man burned in the street for momentary effect, and one that regardless of how well we understand the feeling behind it, really doesn't say or do anything to improve our comprehension of what it purports to address: how an utterly unqualified applicant could obtain the biggest job in the world. A shame, too: a lot of good acting went to waste here, Richard Dreyfuss as Dick Cheney, in particular.
Daniel Perry
Super Reviewer
W. Quotes
| | |
| --- | --- |
| George H.W. Bush: | So what do you do, Laura? |
| Laura Bush: | I read. I smoke. |
| | |
| --- | --- |
| George H.W. Bush: | So what do you do, Laura? |
| Laura Bush: | I read. I smoke. |
| | |
| --- | --- |
| George W. Bush: | I use a condom. I'm not dumb. |
| George Herbert Walker Bush: | What are you cut out for? Partying, chasing tail, getting drunk? Who do you think you are? A Kennedy? |
| | |
| --- | --- |
| Colin Powell: | to Cheney: Fuck you. |
| Colin Powell: | [to Cheney] Fuck you. |