w Delta z
(2006)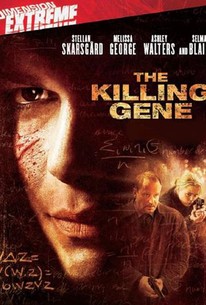 Movie Info
A weary New York City cop (Stellan Skarsgard) and his rookie partner (Melissa George) probe a series of gruesome murders linked to a mysterious equation in this intense and gripping thriller in the tradition of "Seven" and "Saw." Selma Blair, Ashley Walters, Tom Hardy, Paul Kaye. Directed by Tom Shankland.
News & Interviews for w Delta z
Critic Reviews for w Delta z
Audience Reviews for w Delta z
½
Selma Blair starred in this thriller about a woman's revenge on the corrupted city to bring back her own unique justice. Unfortunately, even the talented cast and interesting premise cannot save the film from it's cheap execution and poor camerawork.
Sylvester Kuo
Super Reviewer
My predicted rating: 3 This plot could easily have been made into a gritty Thriller, or a very suspenseful Horror, instead it came across as a cheap version of an otherwise potentially good film. The acting started off pretty poor and got better in parts. The Brit Actors were quality Actors who are worthy of much better roles. It was sort of watchable, but totally lacked any suspense.
Lady D'arbanville
Super Reviewer
This film has, deceivingly, been pitched as "Saw" by way of "Se7en". Firstly, it doesn't have the originality of the first "Saw" installment and secondly, it is by no means, anywhere near as good as "Se7en". New York cops Eddie Argo (Stellan Skarsgard) and Helen Westcott (Melissa George) investigate a series of bizarre murders in which innocents are tortured in front of guilty loved ones who could (but don't) volunteer to die in their place. The fact that it's a serial killer yarn is frankly, the only comparison that can be made with the films mentioned above. It has the atmosphere in abundance, looking very gritty and dangerous but all it achieves in doing, is reminding you that graphic violence in films is completely unnecessary, if the script is in place beforehand. Which this just doesn't have. It strings us along with the old who-done-it? storyline but after half an hour of it's nasty attitude and having a lack of identity with the characters, I couldn't care less who done what, or why, when, or how. All I was aware of was that I couldn't give a shit if any of them sneezed and their heads fell off. A shame really, as it uses a philsophical question as a good narrative tool. Asking "does altruism exist in nature?" In dealing with altruism it should have shown some of it's own and saved us from this abusive assault. However, a short appearance from the very talented Tom Hardy and Stellan Skarsgard getting the lead role for a change, are plus points. A film that really looks the part but leaves a rotten aftertaste and ultimately falls into torture-porn category.
Mark Walker
Super Reviewer
w Delta z Quotes
There are no approved quotes yet for this movie.