The Wackness
(2008)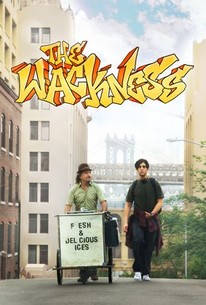 TOMATOMETER
AUDIENCE SCORE
Critic Consensus: Sympathetic characters and a clever script help The Wackness overcome a familiar plot to make for a charming coming-of-age comedy.
Movie Info
It's the summer of 1994, and the streets of New York are pulsing with hip-hop and wafting with the sweet aroma of marijuana--but change is in the air. The newly-inaugurated mayor, Rudy Giuliani, is beginning to implement his anti-fun initiatives against "crimes" like noisy portable radios, graffiti and public drunkenness. Set against this backdrop, Luke Shapiro spends his last summer before college selling dope throughout New York City, trading it with his shrink for therapy, while crushing on his step-daughter.
News & Interviews for The Wackness
Critic Reviews for The Wackness
Audience Reviews for The Wackness
The year is 1994, the place is New York City, and Luke Shapiro, having just graduated high school, tries to spend the summer figuring out what to do with his life, as well as how to deal with all of his various issues. Along the way, he makes his living dealing pot, which also includes trading some of his pot in exchange of clinical help from his psychiatrist Dr. Squires, who also happens to be his only real friend. Things get complicated when Luke starts up a relationship with his doctor's stepdaughter. This is both a coming of age drama (with occasional bits of comedy) and a love letter to the nostalgic days of the 90s. In fact, the film is not very subtle when it coems to reminding the audience that the film is set in 1994. This might be annoying to some, but I rather liked it, but I have a huge love for the 90s, so there. Musically, since this is an urban film, and because the main character is into hip hop, that's what the bulk of the soundtrack is, although there's some nice chestnuts from the 60s and 70s thrown in as well, so that's great. The characters aren't really the most admirable or worthy of being role models, and they aren't always totally likeable or sympathetic, but they are interesting, so that makes watchign a movie about them worthwhile. I couldn't completely relate to this film or the characters in every way, but I found enough similarities to make them somewhat more sympathetic. I liked the lead, but this is one of those movies that is owned by the suporting characters. This film's got an intersting cast, and they all do a pretty decent job (at the very least), especially Ben Kingsley- who really goes off the rails and is rather unrecognizable here as the therapist who is also a drugged out relic yearning for the good old days. Josh Peck is not bad as Luke, but I wasn't blown away by him. Olivia Thirlby, who I liked in Juno, is even better here, giving a sassy and hip performance as the stepdaughter/love interest. In smaller but memorable roles are Method Man as Luke's supplier and Mary-Kate Olsen as one of Luke's customers, a party girl who has a really memorable WTF scene with Sir Ben. Going back to the music for a sec, I think it's interesting to note that this is the second film that Olivia Thirlby has appeared in which features "All the Young Dudes" by Mott The Hoople. Odd. This is a good movie, but not great. It's adequate, but I give it slighly higher marks (admittedly) because I'm a fan of the time period, I like seeing dignified actors play way against type, but do so in dignified ways that don't seem forced. If a movie about angsty bored drug users in the 90s sounds like your type of thing, then give this a watch.
Chris Weber
Super Reviewer
½
With a great script, interesting characters and excellent performances all round, ''The Wackness'' is a very sweet, uplifting coming-of-age dramedy.
Its 1994, mutha fuckas. thats an accurate summary of this film. hey, people. this movie is set in 1994. did you forget already? and Olsen Twin #2 proves that she is an embarrassment to every mammal, reptile, amphibian, plant, and mineral on this Earth. and since she is identical to Olsen Twin #1 in every way, i guess the same goes for her too.
Coxxie Mild Sauce
Super Reviewer
The Wackness Quotes
| | |
| --- | --- |
| Luke Shapiro: | Do me a favor, Steph? |
| Stephanie: | Huh? |
| Luke Shapiro: | Just stand there til I leave. I wanna remember this. I've never done it before. |
| Stephanie: | Never done what? |
| Luke Shapiro: | Had my heart broken. |
| | |
| --- | --- |
| Luke Shapiro: | I'm Luke Shapiro. I'm a drug dealer. Hear my cry. |
| | |
| --- | --- |
| Dr. Jeffrey Squires: | Life has a funny way of turning you into the one thing you don't want to be. |
| | |
| --- | --- |
| Dr. Jeffrey Squires: | It's great, living. Get your heart broken, find yourself face down in the gutter, get your balls sucked, make a real mess of a life. |