Wag the Dog
(1997)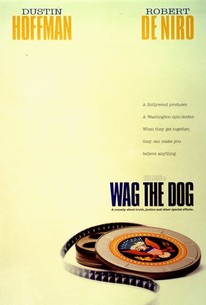 Movie Info
This political satire seems to almost predict the events in the Clinton sex scandal. After the President is caught with a Girl Scout, he hires a Hollywood producer to create a fake war and bring home a fictionalized war-hero to gain support. Problems arise when the insane war-hero dies.
News & Interviews for Wag the Dog
Critic Reviews for Wag the Dog
Audience Reviews for Wag the Dog
½
This eccentric little dark comedy was perfectly timed upon its release, a year before the Clinton affair went public. The film deals with a conspiracy to cover up the POTUS' sex scandal with a younger girl by pretending that there will be a war in Albania, on the eve of the election. The film is very dark, filled with one-off performances by everybody from Woody Harrelson to Willie Nelson, and captures the behind the scenes tension of White House politics. Dustin Hoffman was nominated for Best Actor for this film because his portrayal of Motss is enigmatic. Motss is selfish, egotistical, and without any moral capacity. Robert De Niro is also entertaining, but his character mostly stands at the sidelines, happy to be invisible for the benefit of his job, the opposite of Motss. Overall it's a very solid, if unnerving piece of political satire that tickles the funny bone while revealing the darkness of American politics.
Spencer S.
Super Reviewer
½
Wag the Dog is an average dark comedy that relies on a great cast and an effective script. Enjoyable, but could have been better, this film is a bit dull at times and suffers from a so-so script. The idea is good, but the result is a decent film that just touches the surface of what it tries to accomplish. The cast were quite good and they clearly try to elevate film's material. This is a decent affair, but it could have been much better than what it turned out to be. I was really looking forward to seeing this one, but I was slightly let down. I expected a much better film than this and though it has a great cast, it never becomes anything truly worthwhile to rewatch again. With its ideas, Wag the Dog could have been a standout feature, but it just ends up being a so0so movie that never really takes off. I thought that there could have been more effort put into this one, and though it is a decent film, it's also quite dull in places and it should have been better. This may appeal to viewers looking for satire, but there are some elements missing to make it the film that it should have been. Enjoyable, but flawed, Wag the Dog is decent fun with a cast that try their best at making this a film watchable experience. The idea makes this film enjoyable, but simply can't shrug off how could this one could have been otherwise. Wag the Dog is fun, and quite decent, but it could have been much better.
½
"A good plan today is better than a perfect plan tomorrow." Before elections, a spin-doctor and a Hollywood producer join efforts to "fabricate" a war in order to cover-up a presidential sex scandal.
REVIEW
A political spin doctor, Conrad Brean (Robert De Niro), and a Hollywood producer, Stanley Motss (Dustin Hoffman), both well endowed with chutzpah, set out to create the illusion that the USA has gone to war with Albania, as a distraction from a Presidential sexual peccadillo. Made and released before the Clinton-Lewinsky scandal broke, it is not clear whether the movie's makers had great insight, or inside knowledge; either way, that episode adds to the interest and relevance of the film. De Niro and Hoffman are both brilliant, though understandably the latter seems especially to relish lampooning a film-world type he must have encountered many times in his career. Anne Heche is just right as a Presidential aide who previously thought she was streetwise, but faced with Brean and Motss realises she's a tyro in the kiddology game; and Woody Harrelson has a wonderful role as the man picked to play the war hero who just happens to be a psychotic convict. Among the targets of the satire are clearly the US political establishment, the broadcasting media and Hollywood; but there is a danger that the primary target may be overlooked, and it is worthwhile remembering the derivation of the film's title. Normally, the dog wags the tail because the dog's smarter than the tail; but if the tail was smarter, it would wag the dog; and there can be little doubt that the dog being wagged by Brean and Motss is the viewing and voting public.
Lorenzo von Matterhorn
Super Reviewer
Wag the Dog Quotes
| | |
| --- | --- |
| Winifred Ames: | We killed Ol' Shoe. |
| | |
| --- | --- |
| Stanley Motss: | Good news he's alive! ( Heres gunshot ) Strike that! |
| Stanley Motss: | Good news he's alive! Strike that! |
| | |
| --- | --- |
| Stanley Motss: | Money? You think I did this for money?? I want the credit. |
| Stanley Motss: | Money? You think I did this for money? I want the credit. |
| | |
| --- | --- |
| Stanley Motss: | This is nothing! |