The Wages of Fear
(1953)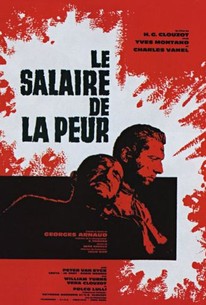 TOMATOMETER
AUDIENCE SCORE
Critic Consensus: An existential suspense classic, The Wages of Fear blends nonstop suspense with biting satire; its influence is still being felt on today's thrillers.
Movie Info
Together with Diabolique, The Wages of Fear (Le Salaire de la Peur) earned Henri-Georges Clouzot the reputation as a "French Hitchcock." In truth, Clouzot's ability to sustain suspense may have even exceeded Hitchcock's; when originally released, Wages ran 155 tension-filled minutes. Based on the much-imitated novel by Georges Arnaud, the film is set in Central America. The Southern Oil Company, which pretty much rules the roost in the impoverished village of Las Piedras, sends out a call for long-distance truck drivers. Southern Oil's wages of 2,000 dollars per man are, literally, to die for -- the drivers are obliged to transport highly volatile nitroglycerine shipments across some of the most treacherous terrain on earth. Through expository dialogue, tense interactions and flashbacks, we become intimately acquainted with the four drivers who sign up for this death-defying mission: Corsican Yves Montand, Italian Folco Lulli, German Peter Van Eyck, and Frenchman Charles Vanel. The first half of the film slowly, methodically introduces the characters and their motivations. The second half -- the drive itself -- is a relentless, goosebump-inducing assault on the audience's senses. The winner of the Grand Prix at the Cannes Festival, The Wages of Fear was remade by William Friedkin as Sorcerer (1977). ~ Hal Erickson, Rovi
Critic Reviews for The Wages of Fear
Audience Reviews for The Wages of Fear
There is nothing like having your nerves frayed to shreds by a brilliant director who knows how to create something so unbearably suspenseful (the mise-en-scène and editing are phenomenal) using the frame of biting political satire to tell an amazing story of friendship and fear.
Carlos Magalhães
Super Reviewer
A towering, devastating motion picture about a few brave men who are handpicked to be drivers of trucks carrying explosives, along a rugged terrain with life-threatening turns in the road. This picture reminded me a lot of "There Will Be Blood" strangely enough, basically in how it depicts greed and pride and how those can be the driving force behind one's motives. The performances all around are fantastic, with some shocking twists in the plot that I for one not see coming. You hear this phrase a lot, sometimes it is overdone, but this is truly a movie that was ahead of its time in terms of how well it handles its white-knuckle thriller aspects with such meticulous care. The ending is also one for the ages. Make no mistake about it, this is a downbeat film, but also a brilliant work of art.
Dan Schultz
Super Reviewer
Since this was made by Henri-Georges Clouzot, the "French Hitchcock", I figured it might be worth seeing. After all, this is the same guy who made the excellent Diaboliques. That, and this film is often considered to be one of, if not the greatest suspense thrillers of all time. So yeah, I finally saw it, and, you know what, it is quite good. Unfortunately I didn't find it to be quite the masterpiece it's reputed to be, but yeah, when this film hits the mark, it really hits it quite well and hard. The plot follows four desperate foreigners in an impoverished Latin American country who are picked by The Southern Oil Company (basically the king of kings in the area) to drive two trucks loaded down with nitroglycerin across some of the world's most treacherous terrain to help put out a raging oil fie on the other side of the country. The men know it's essentially a suicide mission, but hey, the pay is $2,000 per man, and, they are desperate, and it would add excitement to their dismal lives, so why not do it? And that is the key to this film: it's a solid study in cynicism, greed, imperialism, desperation, and tension. This two and a half hour romp spends the first half slowly building up the characters and their situations while the second half (the best part), focuses on the gripping and nail biting expedition. I do think that, even though slow burning films can be good, the first half is too slow and drawn out, and get fairly tedious at times. It's not a total bore, but, compared to the second half, it's pretty uneven, And, while I did love the suspense and tension of the trek, I don't think it's quite as nerve racking as I was led to believe. Maybe that's because I was worn out from getting through the exposition. Even though the exposition could be tighter, these are some great characters, and the dynamics between them are pretty well done. It kinda reminded me of Treasure of the Sierra Madre, and even The Good, the Bad, and the Ugly, and, while I like those films more, the comparisons are definitely a compliment. I must say too that the film is pretty ballsy with how cynical, gritty, and uncompromising it is, especially for the time. Some charged it with being Anti-AMerican, but that's not totally right, This film isn't exclusive with its condemnations- it's an equal opportunity kind of affair. Besides the great set up, good characters, and great acting, I loved the subtext, and especially the cinematography and editing. The ending, too, is probably one of the darkest and bleakest I've seen in a while. If you want a movie that is tense, gritty, and intelligent, definitely check this out, even if it is flawed and overrated.
Chris Weber
Super Reviewer
The Wages of Fear Quotes
There are no approved quotes yet for this movie.