Wah-Wah
(2006)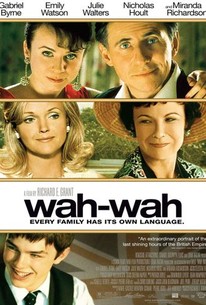 Movie Info
Actor and author Richard E. Grant made his directorial debut with this period comedy drama inspired by his own experiences growing up in colonial Africa in the sixties. Ralph Compton (Zachary Fox) is the 11-year old son of Harry (Gabriel Byrne), the minister of education in the British-controlled African nation of Swaziland. While Harry is a likeable and well-connected man, his marriage to Lauren (Miranda Richardson) is on shaky ground, and when he learns she's been having an affair with one of his best friends, she leaves him and he begins drinking heavily. Harry sends Ralph to boarding school when things start to get unpleasant, and after two years he returns home to discover that some changes have been made. Ralph (now played by Nicholas Hoult) finds that his father is still drinking, but seems a more relaxed and better adjusted man -- and has just remarried, having tied the knot with Ruby (Emily Watson), a former stewardess from America. Ralph naturally resists Ruby's presence in the house, but the two become close, as Ruby indicates that she understands Ralph better than anyone else (and he senses the same). Meanwhile, the British start to withdraw from Swaziland. ~ Mark Deming, Rovi
News & Interviews for Wah-Wah
Critic Reviews for Wah-Wah
Audience Reviews for Wah-Wah
Sentimental and well meaning, the first writing/directing credit for Richard E.Grant (a favorite actor of mine) and auto-biographical as well. The damned Brits are losing their very last colonial holding as those that do the actual work of holding party like its the end of the world.
Kevin M. Williams
Super Reviewer
Cast: Gabriel Byrne, Emily Watson, Miranda Richardson, Nicholas Hoult, Julie Walters, Celia Imrie, Michael Richards, Julian Wadham, Fenella Woolgar, Ian Roberts Director: Richard E. Grant Summary: In his directing debut, Richard E. Grant dishes up a slice of his Swaziland boyhood. As the sun sets on Britain's colony, young Ralph Compton (played by Zachary Fox and later Nicholas Hoult) catches his mom, Lauren (Miranda Richardson), in a compromising position -- sending his dad, Harry (Gabriel Byrne), crawling into a bottle. The couple divorces and Harry remarries, but just as Ralph warms to his stepmom, Lauren turns up to reclaim her family. My Thoughts: "This semi-autobiographical story set in his birthplace of Swaziland is a raw and honest look into the life of Richard E. Grant as a boy dealing with the separation of his parents and his father's habit with alcohol. The movie gives you an honest look at what it's like to live with an alcoholic and how it affects the family. You feel a lot of sympathy for Ralph as you witness with him the separation of his parents and his father's downfall with alcohol. His step-mom Ruby brings some light to his dark world. The film is listed as a comedy, and although there are some funny parts, I would label this as more a dark drama. The film is filled with very interesting character's that really make the film great. With a great story, acting, and direction, it makes this film one to see."
♥˩ƳИИ ƜѲѲƉƧ♥
Super Reviewer
A wonderfully strong ensemble, the story however, is quite complex. There was just too many things that happened, perhaps Richard Grant just threw in a bit too much in this? I loved the mini pockets of treats they placed in the movie though, (Clips from The Clockwork Orange & the mini screenplay practices of Camelot). The story is almost made to get you into a "steady emotional wave", from calm to heart piercing and to heart warming and back again. Plot: "Set during the last gasp of the British Empire in Swaziland, South East Africa, in 1969, the plot focuses on the dysfunctional Compton family whose gradual disintegration mirrors the end of British rule." Starring Gabriel Byrne, Miranda Richardson, Julie Walters, Emily Watson, and Nicholas Hoult (the kid in 'About a boy'). --- "Wah-Wah is loosely based on Richard Grants (the Directors) own childhood experiences..." or so he says. Genre: Drama Side-comment: Perhaps this is a film thats not for everyones liking. I liked it though
Wah-Wah Quotes
There are no approved quotes yet for this movie.