Waiting
(2005)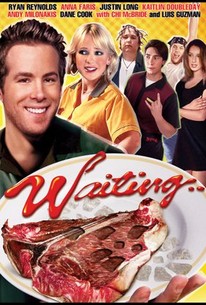 Movie Info
A waiter for four years since high school, Dean has never questioned his job at Shenanigan's. But when he learns that Chett, a high school classmate, now has a lucrative career in electrical engineering, he's thrown into turmoil about his dead-end life. Dean's friend Monty is in exactly the same boat, but he couldn't care less. More concerned with partying and getting laid, Monty is put in charge of training Mitch, a shy new employee. Over the course of one chaotic shift, Mitch gets to know the rest of Shenanigan's quirky staff: Monty's tough-talking ex-girlfriend, Serena, Shenanigan's over-zealous manager, Dan, and head cook Raddimus, who's obsessed with a senseless staff-wide competition known only as "The Game".
Critic Reviews for Waiting
Audience Reviews for Waiting
[img]http://images.rottentomatoes.com/images/user/icons/icon14.gif[/img]
Directors Cat
Super Reviewer
½
"Waiting" has got to be one of the lamest excuses for a film in the history of comedy. The entire movie takes place in a restaurant called Shenanigans, and while Dean (Justin Long) is likeable as the lead star and his story, interesting, the film has no real plot. The script is a bunch of random conversations about sex, drugs and work, and the jokes are never funny. I needed to force myself to find once laugh throughout this film. The main story is that Dean is deciding to enrol in school to become something better, and the end shows that, even though it's dull and the way it is executed is dumb. This film tries way too hard to be funny and much too hard to gross you out. I could not wait for this film to end, no pun intended. Everything about this comedy is uninspired and completely contradicts the genre in my opinion. "Waiting" is far worse than just a waste of time. There is absolutely no reason for why it was made!
½
"What happens in the kitchen ends up on the plate." Young employees at Shenaniganz restaurant collectively stave off boredom and adulthood with their antics.
REVIEW
Waiting couches its tale of debauchery with the narrative thread that it's the first day for new trainee Mitch (John Francis Daley), who never gets to say a word the whole day because people are too busy commenting on the place to allow him to speak. We see that almost every employee pretty much hates the restaurant (which felt very realistic to me, especially for a gross comedy), yet they revel in one another's company even while attempting to set one another up. For most of the guys, this revolves around a game where you try to trick the other males in the restaurant into looking at your exposed genitalia. This sounds particularly juvenile and gross, and yet writer/director Rob McKittrick manages to get a number of genuine belly laughs out of such an absurd and grotesque game. It helps that Guzman, Reynolds, and the rest of the boys in the kitchen play their roles with such gusto, as if it really were the most important thing in their day to expose themselves to the others (and with this crew, it actually is). There are a lot of gross gags in this film (one was so bad I actually gagged watching it), so be warned, and the humor is exceedingly blue. But the movie is surprisingly sharp and funny, and there's a joke at the end which is hilarious; it's been building for the whole film and yet you never realize it until it's revealed. Waiting is far from a perfect film - it runs a little too long, and some of the characters at times veer into cartoon territory, but it's also a very funny movie with more than a few running threads that pay off several times. It's certainly worth a viewing if you can stand the ribald subject matter.
Lorenzo von Matterhorn
Super Reviewer
Waiting Quotes
| | |
| --- | --- |
| Raddimus: | you cant mix Mexican and Continental |
| Raddimus: | You can't be mixing Mexican and Continental. |
| | |
| --- | --- |
| Raddimus: | And that's the Abraham Lincoln, but remember, you gotta shave it so it looks like his beard, otherwise, it don't count. |
| | |
| --- | --- |
| Calvin: | Take a look at the bat wing, Bitch. |
| Raddimus: | Oh, it's so veiny. |
| | |
| --- | --- |
| Monty: | You know, we should probably feel guilty, but she broke the cardinal rule. Don't fuck with people that handle your food. |