Waiting for Superman
(2010)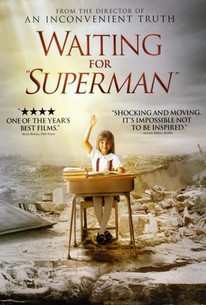 TOMATOMETER
AUDIENCE SCORE
Critic Consensus: Gripping, heartbreaking, and ultimately hopeful, Waiting for Superman is an impassioned indictment of the American school system from An Inconvenient Truth director Davis Guggenheim.
Waiting for Superman Photos
Movie Info
Every morning, in big cities, suburbs and small towns across America, parents send their children off to school with the highest of hopes. But a shocking number of students in the United States attend schools where they have virtually no chance of learning--failure factories likelier to produce drop-outs than college graduates. And despite decades of well-intended reforms and huge sums of money spent on the problem, our public schools haven't improved markedly since the 1970s. Why? There is an answer. And it's not what you think. From "An Inconvenient Truth" director Davis Guggenheim comes "Waiting for 'Superman'", a provocative and cogent examination of the crisis of public education in the United States told through multiple interlocking stories--from a handful of students and their families whose futures hang in the balance, to the educators and reformers trying to find real and lasting solutions within a dysfunctional system. Tackling such politically radioactive topics as the power of teachers' unions and the entrenchment of school bureaucracies, Guggenheim reveals the invisible forces that have held true education reform back for decades. --7copy; Paramount
News & Interviews for Waiting for Superman
Critic Reviews for Waiting for Superman
Audience Reviews for Waiting for Superman
This documentary deals with the vast and crumbling educational system of the United States, and the roadblocks that keep children from gaining a thorough and full education. Director Davis Guggenheim first started his research ten years prior while covering a public school classroom and from there gained insight into the problematic system now in place to educate the nation's children. Guggenheim looks at the various causes of the gap between us, as an industrialized first world power, and the rest of the world in terms of education. There doesn't seem too much of a problem when it comes to federal funding, because the education budget has increased drastically in the last several years, and so Guggenheim more times than others points to the ineffectualness of the school system itself. Most problematic seems to be the teachers unions in place at this time. Though they do protect all teachers from discrimination, pay decreases, and unwarranted attacks via the US government, it also tenures ineffective and sometimes negligent teachers into positions that they should not be holding. They are guaranteed their job, and if they are found to be wanting, are not dismissed but given credence to be moved through the system as easily as some of these kids. Guggenheim also looks at the problems that have more to do with poverty, unstable homes, and the lack of direct aid to stricken neighborhoods. These children especially have a higher dropout rate with the equivalency in reading level of an elementary school child, and that has more to do with having a grading system that moves children up grade levels without warrant and those students not getting enough attention with giant class sizes. Teachers are not paid enough, children are tested unfairly, and overall the dropout rate is enormous throughout the country. Guggenheim unfairly puts a large emphasis on the role of charter schools, showing that they are intensely effective when it comes to test scores and college acceptance rates when they are only 17% superior in math test scores. The film also misrepresents some statistics from the National Assessment of Educational Progress, by saying that seventy per cent of eighth graders cannot read at grade level, which is false. Overall though, the evils of the system and the ineffectiveness alike are represented and many of the points raised are valid.
Spencer S.
Super Reviewer
I want to take a moment and talk about a particular class that this film reminded me of. Tenth grade Math. Now, I have never been that big of a fan of math. Hell, I have always sucked at that class (the one thing my father never gave me: his brain). But for the first half of the school year, I got this blessed angel of a teacher that actually taught the material. With her teaching me, I was able to actually do very well in her class to the point that I was one of her top students. Then, after winter holidays, she had to teacher a recovery class for those students that missed too many days the previous semester and I got thrown into a new math class. Within two months, the class that was said to be the best in tenth grade math became the absolute worst. My B average turned into a failing grade. Nobody was doing good. That was when I figured out what made a class good or not. It is not about studying (though that does help a lot). It is about having good teachers. With the way things are in America (being the laughing stock of the world of education), it is easy to see why we are: all of our teachers are terrible. Waiting For Superman is something of a documentary that I believe should be required viewing in schools because it points out why we are failing, why no one is graduating, why are just terrible. Davis Guggenheim does an expert job keeping your attention threw out the entire one hundred minutes as he goes into great detail of America's education history, the impact our schools are having on families, and the probably outcome if things never change. A documentary is suppose to enlighten one on a topic, and this documentary does more than enlighten: it gets you angry. Angry at the school board, angry at the people in charge, and sparks a feeling of change that needs to happen. Being in one of the best public school systems in America, I thankfully did not have to deal with most of the problems that are expressed in this documentary. However, I do have friends that go to the worst out of the worst here and from what they have said and viewed, this documentary is the best at just flat out showing all that is wrong. But what got to me most was the economic side of this problem. There is a segment in which we are shown how much money is actually spent on Education. Schools and knowledge is considered one of the main topics for the American government to improve. Yet, we are so poorly funded in education due to all of the money being spent on prisons, detention centers, and any other little problem that is little in comparison. The main problem we have is with low employment and while the shortage of money is a key factor, an even larger factor is the low rate of children that actually graduate and strive for something better. This documentary proves that the only way for things to get better is if we make education better, keep children and teenagers in school, and have them trained and inspired to continue on to do great things. Another point which I found interesting is also a major problem that I have with schools: terrible teachers that keep their jobs and where a good chunk of the money goes to. In this documentary, you learn that it is next to impossible to get rid of teachers due to some clause in their job description which confirms their employment for life. What. The. Crap? Okay, so, let us say that you get a teacher that is as terrible as the one I mentioned earlier. If I had it my way, I would make damn sure that I get a teacher that CAN teach in his position and have him get a job else where. But, in reality, unless the teacher decides on himself, he/ she can not get fired. The other part is where money goes to now a days. Answer me this, and be honest: how many kids will really get a job on any sports team? Not many. How many kids might make a job out of a fine art like music, drama, and language? Quite a lot. And yet, the money (a good chunk (too good of a chunk)) goes right into sports programs that just burn the money, waste time and energy, and provides nothing. What? Just because you win a few games all of a sudden makes a school great? Is that what our schools really have turned into? A show of beating each other and calling that school great? Already I am getting worked up over the issues that this documentary has risen, and I have only talked about a fraction of what this entire example of documentation has shown. Waiting For Superman is easily one of the few important documentaries to have been released as of recent and for good reason. This will get you angry, it will make you think, and it will make you question what is happening with our children and the future generation's education.
Zach Brehany
Super Reviewer
A passionate though flawed documentary which has its heart in the right place about the failing school system in America, just not the balanced data and perspectives to back it up. Director Davis Guggenheim should be given credit considering his undying love and desire to see the educational system in America get better, sadly he only seems to be showing one side of the story where students want to learn, teachers suck at their jobs, and administration boards only want what's best for everybody else and not themselves. While he briefly acknowledges views to the contrary, he does not correctly delve into the negative material associated with this subject with the same tenacity he does with the positive-thinking figures he documents. Definitely interesting, and in different, more balanced hands it has potential for a great, great documentary, sadly this comes across as an average offering that fails to address both sides of the issue adequately.
Dan Schultz
Super Reviewer
Waiting for Superman Quotes
There are no approved quotes yet for this movie.