Waitress
(2007)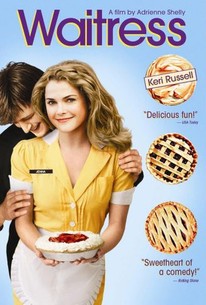 TOMATOMETER
AUDIENCE SCORE
Critic Consensus: Sweet, smart, and quirky, Waitress hits the right, bittersweet notes through this romantic comedy through its witty script and a superb performance by Keri Russell.
Movie Info
A woman trapped in a life from which she dreams of escape, Jenna's secretly hopes to save enough money from her waitressing job to leave her overbearing and controlling husband. She is a sharp, sassy woman with a gift for making unusual pies whose recipes are inspired by the trials, tribulations and circumstances of her life. An unwanted pregnancy changes the course of events giving her an unexpected confidence via letters to her unborn baby.
News & Interviews for Waitress
Critic Reviews for Waitress
Audience Reviews for Waitress
½
A bittersweet film but smartly done. Worth watching.
½
Waitress is a charming, gentle, often dark yet extremely quirky comedy. It feels even darker since the subsequent murder of its writer/director/supporting actor Adrienne Shelley who didn't live to see the film's release. Anchored with a lovely, subtle sad eyed performance by the beautiful Keri Russell and a cast of terrific comedic prodigy actors, including the great Andy Griffith in his last film appearance as the crusty diner owner. It's a singular, meaningful and poetic comedy, despite its light touch and tone. It's the apparently simple story of Jenna, small town southern waitress, with a god given talent for creating original and delicious pies. Stuck in a horrible marriage with an idiot husband, Jenna's saving money so she can bolt - until she finds out she's pregnant. She falls into a hopeless intense affair with a married young doctor, played with customary charm and intelligence by TV's own Cary Grant, Nathan Fillion. That's about the whole story, the stakes keep getting raised higher as the doctor and the waitress carry on an increasingly steamy affair just as her belly gets bigger and her husband gets more demanding and abusive. The pies are a terrific touch, because the recipes are thematically related to the beats of the story (i.e. I hate my husband pie, crushed lumpy oatmeal and sour cherries, etc.). The making of the pies is shot gorgeously and, amazingly this device never gets tired. I forced myself to watch this, because on paper, it looks like a cliched, gratuitously offbeat comedy full of faux folksiness and bad southern accents. It's far better than that. Director Shelley and Cheryl Hines play her fellow waitresses with verve and spunk, and Jeremy Sisto as the abusive husband may be stupid, but he's an identifiable human being, not a cliched villain, who evokes our empathy, even as we are rooting for Jenna to get the hell out of the marriage. On the DVD extras, the cast all rhapsodize about Shelley's having such a clear vision of what she wanted and how she was a control freak for every aspect of this production. That is palpably true, and it's a tragedy that she didn't get to make more films. See this one, you'll be happy.
Josh Morris
Super Reviewer
Our world needs a few feel-good movies, and 'Waitress' fits the bill. Earl (why are Southern bad guys always called Earl?) needs to be taught a lesson, and Jenna finds a way to accomplish that.
Waitress Quotes
There are no approved quotes yet for this movie.