Wake of the Red Witch
(1949)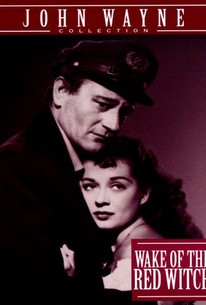 AUDIENCE SCORE
Critic Consensus: No consensus yet.
Movie Info
This unusual, dreamlike John Wayne vehicle is set in the East Indies. The focus of the film is the deadly rivalry between two men of the sea. Ship's captain Rails (John Wayne) nurses a long-standing grudge against shipping magnate Van Schreeven (Luther Adler). The reason for the animosity: Van Schreeven stole away Rails' love, Angelique (Gail Russell). Revenge has warped Rails to point that sometimes he seems to be the heavy of the picture. Complications involving valuable pearls ensue before the offbeat climax, which finds Rails scuttling his own vessel, the Red Witch, as means of getting even. The film's resolution is one of the strangest ever concocted for a Wayne picture. Wake of the Red Witch represented the second screen teaming of John Wayne and Gail Russell; the film must also have held some special significance for Wayne, since he named his own production company, Batjac, after the shipping firm depicted in the picture.
Critic Reviews for Wake of the Red Witch
Audience Reviews for Wake of the Red Witch
This is an outstanding early John Wayne Film. Another early days at sea movie. When I first saw the title cover I thought maybe this was the same movie as Reap The Wind but I was wrong so wrong. This movie out does Reap the Wind by 10 fold. John Wayne is a sea captain who scuttles the Red Witch because of the cargo which is 5 million dollars worth of gold in 1948 so imagine the price today. The man he stole the gold from wants it back so this makes for a very exciting movie. 4 stars for this old Black and White.
Bruce Bruce
Super Reviewer
½
Decent enough retread of Reap the Wild Wind but nothing extraordinary. Good cast, both Gail Russell and Adele Mara look great and Gail is properly ethereal.
Wake of the Red Witch Quotes
There are no approved quotes yet for this movie.