Wake Wood
(2009)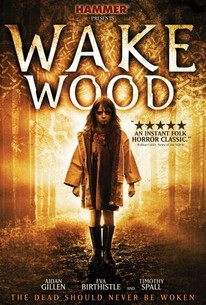 Movie Info
Still grieving the death of their only child Alice at the jaws of a crazed dog, vet Patrick and pharmacist Louise relocate to the remote town of Wake Wood where a local pagan ritual gives them three more precious days with her. But, what will they do when it's time for their new daughter to go back?
Critic Reviews for Wake Wood
Audience Reviews for Wake Wood
½
[img]http://images.rottentomatoes.com/images/user/icons/icon14.gif[/img]
Directors Cat
Super Reviewer
½
Arthur: How long has your daughter been in the ground? "The Dead Should Never Be Woken" Wake Wood is a film that feels like it should be a lot better than it actually is. I loved the idea, but once everything began to play out; it seemed to become a standard slasher. I should probably explain because saying standard slasher could give you the wrong idea about the movie. It's a Pet Semetary-esque plot with some added witchcraft and paganism elements. For the first fifty minutes or so there is no terror to be found, which is not necessarily a bad thing. Slow burn horror films can sometimes be the most effective. So I'm fine with the slow start. What I wasn't fine with was the actual horror scenes. The setup was too good to fall back and become nothing more than a little smarter Friday the 13th. Sure they tried to bring it back to what they promised right at the end, but by then I was kind of turned off to the film. Two parents lost their daughter, and moved to Wakewood to get away from their past. After being there for months, they discover a ritual the townspeople use to bring their dead loved ones back for three days. There are rules that go along with bringing a loved one back though, the leader of the ritual explains. Failure to obey the rules could bring about consequences. The plot isn't anything new really. It's basically borrowed parts that are put into a new plot. Once again, I would have been fine with that if it had been done better in the end. I didn't hate the movie and actually thought a few things were well done. I liked the ritual scene and there was nice atmosphere throughout. It's also nice to see Hammer back and at em. This was their first release after coming back. They've made a few more films, most better and at least one worse. Seeing Hammer presents on the front of a DVD cover is a welcome sight for this horror buff. The first film just wasn't great. A decent effort, but it could have been a lot better. Not a bad film to make my 666th review though.
Melvin White
Super Reviewer
Cynthia S.
Super Reviewer
Wake Wood Quotes
There are no approved quotes yet for this movie.