Waking the Dead
(2000)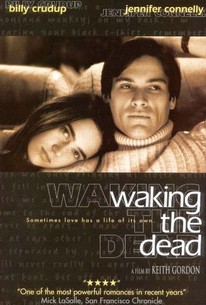 Movie Info
A man finds his melancholy turning to madness in this thriller. Young lawyer Fielding Pierce (Billy Crudup) has just thrown his hat in the ring for an upcoming congressional election. He has also been haunted by the memory of his girlfriend Sarah (Jennifer Connelly), who recently died in a car bombing -- and haunted not just figuratively but literally: he's seeing apparitions of Sarah everywhere, and he's starting to wonder if she's really there or if he's going mad. Waking the Dead is based on a novel by Scott Spencer, who also wrote Endless Love, and directed by actor-turned-filmmaker Keith Gordon.
Critic Reviews for Waking the Dead
Audience Reviews for Waking the Dead
This film was heavy, that's for sure. I thought the nonlinear storyline was effective. Visually this film won me over. The imagery was starkly beautiful, lighting was used to great effect; sometimes to provide warmth at other times to make a room uncomfortably bright. It reminds me of the Constant Gardener, the version that would have unfolded if the man hadn't sought answers to his partner's death. What would've happened if he had tried to simply move on with his life.
Laura Cameron
Super Reviewer
½
I kick myself for actually liking this movie. Billy Crudup is understatedly wonderful. This is how the terrible book should've been paced.
Alice Shen
Super Reviewer
½
I loved the dichotomy of Waking the Dead's story right off the bat - part political flick, part romance, part ghost mystery? Interesting roots, but sadly the movie most often plays to its obvious avenues, and where there should have been atmosphere and melancholy there instead exists cliche. The problem is that the crux of Waking the Dead, its love story, is the weakest part. Fielding and Sarah are good characters, but there's something missing - a lack of focus on the couple's good times, I think. They spend a lot of their time together locked in political repartee, which generally ends in some personal barb and all parties involved being pissed off or upset. They should just gone out for ice cream or roller bladed or something; you know, a tether to prove that these people ACTUALLY liked each other. Without it, the final moments of the movie kind of fall flat, and turns a movie that could have been genuinely affecting into something strong, if not forgettable. There's no denying that it is a strongly written movie, literate and full of governmental allegory. The lead performances are equally excellent, though Billy Crudup occasionally trips up on the admittedly dense dialogue. Unfortunately, it's just not enough - the movie spends too much time on Fielding's uninteresting campaign when it should be showing us more about the relationship that was taken away from him. Show us what he's missing.
Drew Smith
Super Reviewer
Waking the Dead Quotes
| | |
| --- | --- |
| Sarah Williams: | So few people get what they want. And the ones that do, aren't really the lucky ones anyway. |
| | |
| --- | --- |
| Sarah Williams: | You're just going to have to put up with me as your own personal Jiminey Crickett. |
| | |
| --- | --- |
| Sarah Williams: | The war's been ending soon for a long time. |