A Walk in the Clouds
(1995)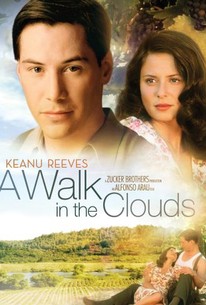 TOMATOMETER
AUDIENCE SCORE
Critic Consensus: A Walk in the Clouds aims for sweeping period romance, but quickly unravels thanks to a miscast leading man and a story that relies on cheap melodrama.
A Walk in the Clouds Photos
Movie Info
Veteran Paul Sutton is having difficulty forgetting the recent horrors of WWII, and his self-absorbed wife isn't helping matters. One day, Paul meets a distraught pregnant woman whose boyfriend has abandoned her. To help out, Paul poses as her husband for her family and finds himself in a difficult situation.
Critic Reviews for A Walk in the Clouds
Audience Reviews for A Walk in the Clouds
Quite a nice romantic little story but not my usual type. Sadly, I found it more interesting in the beginning, when he went home to his shallow wife - that is a story that may have held my interest a little more! I am sure this is a movie most people would enjoy. Not a favorite for me, and not a rewatch, but glad I saw it once.
Nicki Marie
Super Reviewer
A syrupy movie - about love and honour. Actually I didn't mind Keanu's acting, but the ending of the movie - with the fire and the vine is pure crap.
1995 "a walk in the clouds" is a remake of 1942 italian movie "four steps in the clouds" which is about a henpacked chocolate-seller's temporal acquisition of love from a woman who needs his help to pretend as her husband to disguise her illicit pregnancy by another man. the original story ends tragically with the man back to the shrewish wife as well as the emptiness of his trapped miserable existence. his mere solace would be his upcoming son whom he could fantasize as the crystallization with the one woman he truly loves. BUT the american version gives another kind of optimistic tone blended with overflown romanticism to render mexico as the redeeming heaven for the wounded american man broken by wwii just like the stereotyped mexican dreams for americans who fancy to escape into another primitive land in oblivion of industrialized trivia within various american pop cultures. apparently "a walk in the clouds" is highly idealized by re-incarnating the man as honorable war time hero who condescends to rescue the troubled mexican woman from the moral condemnation of her prestiged family. the man also has no past due to his orphanage, so he could freely abandon his american heritage to surrender over the allure of mexican vineyard except his marriage during the typical wartime redenzvous (that sort of date on saturday, married on sunday wedlock)..thus the audience could identify with the man's moral stance. later his materialistic wife even cheats on him so the man's qualified licitly to gallope toward the mexican fairy who could enliven his soul among the clouds. the cinematography feels like a dreamy commercial to lure you into a one or two-week vacation treat in mexican countryside, and the music is idyllically composed (it even won an oscar), and the people under the circumstance are all pleasant endearing grandma/grandpa type to draw an cozy picture of home. keanu reeves delivers every line most/every woman likes to hear in certain conditions of crises, he sings downstairs with a band to swoon you, and he's pure, handsome and gallant despite at most of time he's wooden and slow. it's a picture you don't have to think but dream. perfect merchandize for the consumption of fantasies. as i reminiscence, i watched this movie at 13 when every teenage girl around that age went into a feverish craze for it. i used to enjoy that sort of drama when i didn't need to think or frown, but as i gaze my life in reality, i doubt, disbelieve and deny by myself. now i look upon this movie, i automatically examine its ideology at once without a bit of girlish delight i used to blindly feel. but still i wouldn't defame it just becuz my life ain't so glamorous but amazed by how time has roughend me with a degree of detached rationality which sustains me thru the odds. i cannot help but wonder: maybe movie itself is an apparatus to narcotize you into a mode of inner utopia of self-indulgence, whether your aim is at mushy romances or gritty testicle-driven violences or sultry erotica, we shall always seek something to entertain oursevles by any age. i suppose a good movie makes you think; the rest just drives you to buy. what you've gotta learn is to transcend such manipulation to stand on your own to probe. "a walk in the clouds" is filled with flat characters but at least they're persuasive stereotypes who look and behave right in their parts under picturesque sceneries. by gazing keanu in fedora, i cannot help but envision this movie made in 1940s with gary cooper and dolores del rio in a better script to bare more scopes of human complexities, maybe it would have been a masterpiece if it's directed by fritz lang in a dialogue-driven method like lang's "clash by night" or jean renoir's "toni".
Veronique Kwak
Super Reviewer
A Walk in the Clouds Quotes
There are no approved quotes yet for this movie.