A Walk in the Sun
(1945)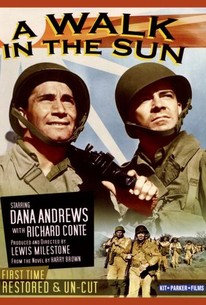 Movie Info
Harry Brown's honest, unsentimental WW2 novel A Walk in the Sun has been effectively adapted for the screen by Robert Rossen. Dana Andrews stars as Sgt. Tyne, a platoon squad leader in Italy who ends up assuming command of his platoon after a series of deaths. As they prepare to attack an isolated Nazi-held farmhouse, each of the infantymen reveals his true character as he dwells upon his background and contemplates the job at hand. The film's effectiveness lies in the non-cliched characterizations by a carefully chosen all-male cast. Huntz Hall of "East Side Kids" fame is particularly good in a scene wherein he argues over whether the human body or the leaf is the most complicated natural structure. Director Lewis Milestone's use of a ballad to link the action predates High Noon by some seven years.
Critic Reviews for A Walk in the Sun
Audience Reviews for A Walk in the Sun
This is one of the best and most interesting WWII movies ever made. I had not seen it since I was a teenager in the early 1960s, yet the title has staid with me ever since. The juxtaposition of killing and dying with the simple title works better than the Audy Murphy "To Hell and Back" autobiographical film. The mix-ups (getting separated on landing on the beach), the human frailties (the sergeant having a nervous breakdown after having to take command), the tough-talking New York cabbie-machine gunner who did not qualify as a machine gunner but bribed someone to land the job, John Ireland's character writing a letter in his head to his sister back home, . . . you feel as though you know/knew these people and were there with them in Italy 65 years ago. I had forgotten that the film was directed by Lewis Milestone, who also directed the 1930 film version of "All Quiet on the Western Front." The only flaw that I noticed this time is a slight one. The pacing of the film is intentionally slow, leading up to the violent combat at the end. However, in achieving this cinematic effect, Milestone seemingly has some events take place over a much longer period of time that they would have in "real life" (e.g., the landing craft seem to take forever to reach shore). All in all, this is a terrific movie. I own very few movies; I'm glad I own this one. 3 Stars 1-15-13
Bruce Bruce
Super Reviewer
½
Respected director Lewis Milestone struggles to achieve the sound of fury as in Western Front.Well,there's exclamation alright and noisy distraction but where has all this aesthetic poetry gone?A minor triumph in spite of the many introverted sequences and non-linear battles.
Dimitris Springer
Super Reviewer
A Walk in the Sun Quotes
| | |
| --- | --- |
| Rivera: | So that's what I am, huh? Whaddaya know. Where'd you get that malarkey, Jake? |
| Friedman: | Out of a book. |
| Rivera: | A book! |
| Friedman: | You're a decadent democrat, Rivera |
| Friedman: | You're a decadent democrat, Rivera. |
| | |
| --- | --- |
| Rivera: | Good thing they invented trains for travelling salesmen. |
| Friedman: | OK, kill me: what's the gag? |