A Walk on the Moon
(1999)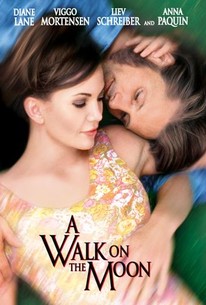 TOMATOMETER
AUDIENCE SCORE
Critic Consensus: An impressive showcase for Diane Lane and an assured debut from director Tony Goldwyn, A Walk on the Moon finds absorbing period drama within a family at a crossroads.
A Walk on the Moon Photos
Movie Info
Tony Goldwyn's A Walk on the Moon is a wonderfully realized, nostalgic (if you are as old as I am) melodrama set during the summer of 1969. It is a time of change across America--sex, drugs, and rock 'n' roll--and a historic year in the space program, but not everything is in upheaval. Pearl Katrowitz, a thirty-year-old Brooklyn housewife (Diane Lane), is spending the summer, as she has for the last decade, at Dr. Fleigel's Bungalow Colony in the Catskills. Along with her daughter, son, and mother-in-law, she waits dutifully for her husband's weekend visits, commuting from his job in New York City. The insularity of the camp is interrupted only by calls from the traveling salesman, the "ice cream man," "the knish man," or "the dress man." On one of these occasions, Pearl meets "the blouse man," Walker (Viggo Mortensen). Both hip and sexy, he is at first just casually friendly. But it rapidly becomes evident that the undercurrent of sexual tension won't disappear, and the steamy love affair that ensues changes the lives of everyone involved. With a tone that is romantic yet very authentic, Goldwyn creates a charmingly comic but intense love story that interweaves coming of age for Pearl's newly adolescent daughter with Pearl's own trek toward self-realization. Against the backdrop of Woodstock, and with Lane's complex, yet compelling, sexuality, Goldwyn's storytelling avoids the era's easy cliches to offer a memorable and satisfying look back at the time when change was in the air.
Critic Reviews for A Walk on the Moon
Audience Reviews for A Walk on the Moon
½
Great acting in a drama about relationships - in 1969. Unfortunately, I remember those times, and I have spent holidays in camps like is featured in the movie. You really feel for the characters - and Diane Lane and Anna Paquin - mother and daughter - both struggle with love and sex this one summer.
This movie is about a woman who has second thoughts about her married life when she meets a handsome t-shirt salesman. A Walk on the Moon is a great movie which touches a lot of morality subjects that are super relevant to our society today. Today there are too many adult people acting like teenagers and letting themselves get sucked in to the vortex of the irresponsible and untied life. A part of maturing is realizing that you can't do whatever you want whenever you feel like it, you have to consider the people around you when you're making important decisions and you must not be reckless. I think this movie teaches some great lessons about immaturity and loyalty. It teaches about responsibilities and what happens if you abuse the responsibility you have. I love Liev Schreiber and Viggo Mortensen, and they're really bringing the best to this movie.
Naughtia Nahazhina
Super Reviewer
½
an unexpected gem with a typically outstanding performance from Diane Lane.
A Walk on the Moon Quotes