Walk on the Wild Side
(1962)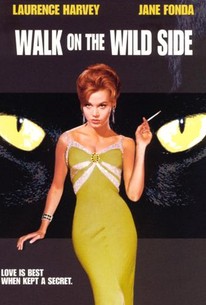 Walk on the Wild Side Photos
Movie Info
This moody and controversial drama takes place in Depression-era New Orleans. Dove (Laurence Harvey) has traveled by bus from Texas to find his wayward lover Hallie (Capucine). He meets young Kitty Twist (Jane Fonda) as the two get off in the crescent city. Teresina (Anne Baxter) gives him a job at her small cafe. In his free time, Dove searches for Hallie and finds her at work as a prostitute in the Doll's House. Dove implores Hallie to return to him but she refuses. When the lecherous lesbian madame Jo (Barbara Stanwyck) discovers Dove's intentions towards Hallie, she has him beaten to a bloody pulp by her hired goons. He is found by Kitty, now a happy hooker at the Doll House, and is taken back to the cafe where the compassionate Teresina heals his physical and emotional wounds. The film taken from the novel by Nelson Algren is much tamer than the original text. The title track, sung by Brook Benton, was nominated for an Academy Award. The "black-cat stalking" opening and closing sequences (by designer Saul Bass) is a perfect little "film-within-a-film." This footage, with its superb lighting, framing, panning, and editing, should be appreciated by anyone who wants to know more about the art of cinematography.
Critic Reviews for Walk on the Wild Side
Audience Reviews for Walk on the Wild Side
Lawrence Harvey plays a good-natured gentleman idiot hayseed looking for his ex in 30s New Orleans only to find out she became a whore. Harvey's accent is kind of forced, Capucine as usual relies too much on her looks and Barbara Stanwyck plays her later era typical brassy old broad role--with the exception of her character being gay. The only standout is a young Jane Fonda who was as every bit good as she was foxy. Although she's got maybe 20 minutes of screen time Walk on the Wild Side is totally worth it for her.
Michael Gildea
Super Reviewer
½
Wild weird film, some odd casting choices, Anne Baxter as a mexican senorita?, add to the strange appeal of this mongrel of a movie
Walk on the Wild Side Quotes
There are no approved quotes yet for this movie.