A Walk to Remember
(2002)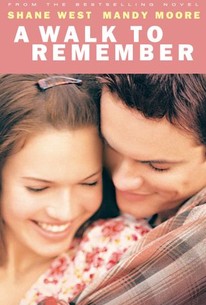 A Walk to Remember Photos
Movie Info
The best-seller by sentimental novelist Nicholas Sparks becomes this teen melodrama set in a coastal North Carolina port. Cocky, popular high school student Landon Carter (Shane West) is the big man on campus at Beaufort High School until a hazing incident leaves a fellow student paralyzed. Sentenced to community service and membership in his school's drama club, Landon is forced to seek help from Jamie Sullivan (pop singer Mandy Moore), the conservative, religious, plain-Jane daughter of the town's Baptist minister (Peter Coyote). When the two students begin to fall in love, Landon struggles with the drop in popularity that his new friendship brings, while Jamie is forced to deal with her strict father and a secret that she's keeping from her schoolmates. A Walk to Remember, which co-stars Daryl Hannah, is the second of Sparks's novels to make it to the big screen after Message in a Bottle (1999). ~ Karl Williams, Rovi
Critic Reviews for A Walk to Remember
Audience Reviews for A Walk to Remember
½
I have watched this many times over the years. It is the only Nicholas Sparks story I actually like. Both Mandy and Shane are perfect here. I love the songs, too. Mandy's voice is beautiful.
Nicki Marie
Super Reviewer
I saw "A Walk to Remember" for the second time today. I have to give it more respect that I did the first time I saw it. Sure it is mushy or corny, but I always have hope after seeing a movie like this that people can change or grow for the better. If you are a romantic, this is the movie for you. But it is difficult to watch without an odd tear welling in your eyes.
½
I truly cared to see A Walk to Remember, until I absolutely had to, or forced to. I had read many things on this film, some good, and some bad. Mostly bad. The film was surprisingly decent, nothing great or anything good. But decent. I felt that it was an interesting enough film to watch. Nothing more. The film didn't have awful acting, as I'd expect it to have and I liked that the guy who was basically an asshole because he was one of the "popular cool kids" decided to change because he met a girl that was kinder than most of his friends. There is an average story going on here, but as a person who normally doesn't like romance films, I thought that A Walk to Remember was very decent. There are things that could've been done better, but this isn't too bad of a film. I didn't think the ending was all that sad either. I know that sounds cold, but I just didn't feel anything. How ever I do admire some of the issues displayed in this film, and it did have a heart. I thought it was a decent film for what it was. Though it has plenty of flaws, A Walk to Remember is an entertaining film that wasn't all bad. Sure it touches on the clichéd love story aspects, and it's meant as a teen romance film. But they could've done slightly better. One of the reasons this isn't utter trash is because of Mandy Moore's fairly good performance here. Overall a decent little film, but nothing truly memorable or great on screen.
A Walk to Remember Quotes
| | |
| --- | --- |
| Landon Rolands Carter: | But our love... It's like the wind. I can't see it, but I can feel it. |
| | |
| --- | --- |
| Landon Carter: | I need help with my lines. |
| Jamie Sullivan: | Landon Carter is asking me for help? |
| Landon Carter: | Yeah. |
| Jamie Sullivan: | Okay. I'll pray for you. |
| | |
| --- | --- |
| Jamie Sullivan: | So, would it kill you to try? |
| Landon Carter: | Yep, and I'm too young to die. |
| | |
| --- | --- |
| Jamie Sullivan: | Hey Carter. See you after school? |
| Landon Carter: | In your dreams. |