Walkout
(2006)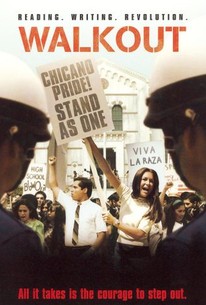 AUDIENCE SCORE
Critic Consensus: No consensus yet.
Movie Info
Made for cable, Walkout is the true story of a little-known but profoundly significant moment in the history of the Latino community in East Los Angeles. In 1968, Lincoln High School honor student Paula Crisostomo (Alexa Vega), outraged at the shabby treatment afforded Chicano students in the L.A. school system -- including habitually lowered expectations, poor facilities, a total absence of bilingual courses or textbooks, unfairly administered penalties for slight infractions, demeaning corporal punishment, and out-of-hand refusal to write letters of recommendation to choice colleges -- challenges the authority of her elders for the first time in her life by organizing a mass student walkout at five barrio high schools. Mentored by dedicated young teacher Sal Castro (Michael Pena), Paula and her fellow student activists intend to make their protest a peaceful one, but the L.A. cops typically use brute force to quell the "radicals." Even when it seems that the school board will capitulate to the Chicano students' demands, the kids are betrayed (there's an undercover police officer in their midst) and the leaders of the walkout are threatened with lengthy prison sentences on trumped-up "conspiracy" charges. It will not spoil the ending of the film to reveal that the students are ultimately successful; as directed by actor Edward James Olmos (who also plays one of the school board members), the dramatic thrust of the story is the lasting effect that the protest has on its participants -- especially the idealistic Paula Crisostomo. Executive producer Moctesuma Esparza, who'd been one of the original walkout organizers back in 1968, spent a full two decades getting this story on film; Esparza is played by Bodie Olmos, son of the director, while Esparza's daughter Tonantzin Esparza is seen as Vickie Castro. Also, Paula Crisostomo's daughter Marisol Crisostomo-Romo is seen as Mita -- and in addition, several of the former student activists are interviewed during the closing credits, or appear as extras in the crowd scenes. Produced for HBO, Walkout originally aired on March 18, 2006.
Critic Reviews for Walkout
All Critics (1) | Fresh (1) | Rotten (0)
Director Edward James Olmos pulls off one hell of a stellar job directing this activist tale with flair and simplicity mingled within the story...
July 10, 2007 | Rating: 3.5/5
Audience Reviews for Walkout
½
Nice HBO movie. More like a regular made-for-tv movie, than the big production HBO movies that they do now. Nice to learn of this event, though. Very inspiring...
Cynthia S.
Super Reviewer
I know so little about the history of the Latin community in America. I enjoyed learning about this historic event. I wish a movie like this could more widely viewed by ALL Americans to help them understand the struggles of being a minority.
Thomas Johnston
Super Reviewer
[font=Century Gothic]Based on a true story, "Walkout" takes place in East Los Angeles in 1968 where Paula(Alexa Vega) is an A student set to graduate in a few months from Lincoln High School where she is one of the few expected to go to college. Still, she is unsure of her future plans which is complicated by her father(Yancey Arias) not granting permission to attend the Chicano Leadership Conference in Malibu, which is advised by her history teacher, Sal Castro(Michael Pena). But her mother(Laura Harring) signs the permission slip anyway. It is there that she meets recruiters from local colleges, activists and students from other predominantly Chicano high schools in the city.[/font] [font=Century Gothic][/font] [font=Century Gothic]One of the reasons why "Walkout" excels so well, is that it is not just Paula's story; it is the story of an entire community of high school students coming of age in a single moment. The movie takes its time to build to it, starting with small signs of de facto segregation and institutionalized racism which not only include the locked bathrooms and corporal punishment for speaking Spanish but also the students' ignorance of their heritage. In reacting against this, director Edward James Olmos starts his film about a forgotten piece of history by having Mr. Castro talk about Chicano history which the students are unaware of.(Is it any surprise that Ronald Reagan was governor of Califonia when this movie is set? It sure would explain the red baiting and the media manipulation...) Not only is education important for this reason, but also for the chance to attend college, so these students can have a better life than their parents while also avoiding dying in the senseless war of Vietnam.[/font]
Walkout Quotes
There are no approved quotes yet for this movie.