WALL-E
(2008)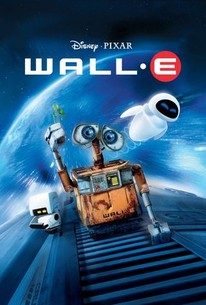 TOMATOMETER
AUDIENCE SCORE
Critic Consensus: Wall-E's stellar visuals testify once again to Pixar's ingenuity, while its charming star will captivate younger viewers -- and its timely story offers thought-provoking subtext.
Movie Info
After hundreds of lonely years of doing what he was built for, WALL-E (short for Waste Allocation Load Lifter Earth-Class) discovers a new purpose in life (besides collecting knick-knacks) when he meets a sleek search robot named EVE. EVE comes to realize that WALL-E has inadvertently stumbled upon the key to the planet's future, and races back to space to report her findings to the humans (who have been eagerly awaiting word that it is safe to return home). Meanwhile, WALL-E chases EVE across the galaxy and sets into motion one of the most exciting and imaginative comedy adventures ever brought to the big screen. Joining WALL-E on his fantastic journey across a universe of never-before-imagined visions of the future, is a hilarious cast of characters including a pet cockroach, and a heroic team of malfunctioning misfit robots.
News & Interviews for WALL-E
Critic Reviews for WALL-E
Audience Reviews for WALL-E
½
A pretty darn good movie, done nearly entirely in pantomime as two AI's develop both self consciousness and feelings for one another in the midst of fulfilling their dreary, lonely and meaningless allotted assignments. The backdrop for this very typical relationship quest (except that they're machines) is a Planet Earth literally and totally trashed and abandoned, and a humankind stranded both in space and by their dependence on technology. Not bad stuff which reheats easily for the second and third viewings
Kevin M. Williams
Super Reviewer
Forget great Pixar film, this is just a great science-fiction film period. The title character and Eve make for a cute duo. Kids will enjoy the charmingly funny antics while adults will be taken in by the film's surprisingly dark and biting social commentary (obesity, commercialism, environmentalism). Every scene from the desolate Earth to the vastness of space bursts with some of the most beautiful animation committed to film. The robot characters are well-designed and manage to be endearing with very little dialogue. 'Wall-E' is a heartwarming love story combined with a great sci-fi tale and it remains a testament to why Pixar is one of the best things to ever happen to cinema.
Christopher Heim
Super Reviewer
½
Quite touching and entertaining, Wall-E is not the masterpiece some claim it to be, but it is another remarkable film from Pixar all the same.
Matthew Samuel Mirliani
Super Reviewer
WALL-E Quotes
| | |
| --- | --- |
| Eve: | [pointing to herself] Directive? [Wall-E nods] Classified. [turns away, then turns back, scanning Wall-E] Name? |
| WALL-E/M-O: | [looks at his torso, which has his name on it] W--Wall-E. |
| Eve: | Wall-E? |
| WALL-E/M-O: | [sighs] |
| Eve: | Wall-E.. [giggles] Eve. |
| WALL-E/M-O: | Eee? |
| Eve: | Eve. |
| WALL-E/M-O: | Eva. |
| Eve: | [enunciating] Eve. Eve. |