Wall Street: Money Never Sleeps
(2010)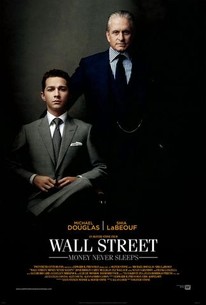 TOMATOMETER
AUDIENCE SCORE
Critic Consensus: It's more entertaining than many sequels, but with Oliver Stone directing, a terrific cast, and a timely storyline that picks up where the original left off, Wall Street: Money Never Sleeps should be better.
Wall Street: Money Never Sleeps Photos
Movie Info
Ambitious young investment banker Jacob Moore (Shia LaBeouf) discovers that greed is still the name of the game when he forges a fragile alliance with onetime Wall Street hotshot Gordon Gekko (Michael Douglas) shortly after Gekko is released from prison. Having served eight years for securities fraud, money laundering, and racketeering, Gekko emerges from prison to find that his daughter, Winnie (Carey Mulligan), prefers to remain estranged, and that his former Wall Street cohorts are still raking in the cash. Flash-forward to 2008, and Winnie is dating a proprietary trader named Jake Moore (LaBeouf), who expresses a passion for green energy while working for his mentor Louis Zabel (Frank Langella), of Keller Zabel Investments. Despite heading up one of the most prominent investment firms in the country, Louis Zabel is forced to personally fight for the future of Keller Zabel before the Federal Reserve after the company's stock takes a hit due to persistent rumors that it's being dragged down by debt. Denied a bailout from the government, Keller Zabel soon falls victim to a hostile takeover lead by powerful investment bank partner Bretton James (Josh Brolin), of Churchill Schwartz. His job on the line and his mentor out of the picture, Jake discovers that Gordon Gekko is out promoting his new book "Is Greed Good?" and decides to attend a lecture being given by the author at Fordham University. According to Gekko, greed is now sanctioned by the government, and the U.S. economy is on the verge of collapse as a direct result of leveraged debt and wild conjecture. When Jake goes behind Winnie's back to try and repair her relationship with her father, Gekko reveals his compelling theories on the likely reasons for Zabel's downfall. Later, as Jake begins plotting to avenge his mentor, Gekko starts to reveal his true colors. ~ Jason Buchanan, Rovi
News & Interviews for Wall Street: Money Never Sleeps
Critic Reviews for Wall Street: Money Never Sleeps
Audience Reviews for Wall Street: Money Never Sleeps
A great sequel about the endurance of the money game and the pleasure for some to be in the speculation battle, with a sharp dialogue and another amazing performance by Douglas in this compelling story whose sole misstep is a weak, unnecessary conflict in the final act.
Carlos Magalhães
Super Reviewer
½
Wall Street: Money Never Sleeps is Oliver Stone's sequel to his 1987 film Wall Street. I quite enjoyed the original, and I thought it was a surprising effort from Oliver Stone. With this follow-up, He crafts a decent film that could have been much better, and in the end, it leaves a lot to be desired. This sequel is somewhat entertaining, but it could have been much better. Luckily for Stone, he assembles a colorful cast of actors that keeps this so-so sequel afloat. The film had so much potential in being so much more, but it ends up falling flat. As a whole, it's decent, but it lacks the power of the original. Michael Douglas is very good here as usual, and his screen presence is really what kept me involved in the film. Wall Street Money Never Sleeps is not a good sequel, but it is somewhat entertaining, just don't expect anything truly remarkable. Oliver Stone seems to navigate sketchy territory with this one, and it feels like he is trying too hard at outdoing his original film. The idea of creating a sequel to Wall Street was interesting, but the end result is somewhat lacking even though it's entertaining to some degree. I still think it could have been better, and the film's potential is there, but is underdeveloped. Michael Douglas is the best part about the film, however Shia LaBeouf lacks in screen presence and he's not convincing in his performance. Oliver Stone focuses his sequel on the recent Crash, but he doesn't elaborate on it, considering that it's one of the key aspects of the time where the story is set. Fans of the first may be disappointed with this one and with good reason. This is a decent film, and nothing more. The plot could have been rewritten and more detailed, but it just fails to truly be entertaining and interesting in the long run.
½
Shia is only thing that makes it interesting.
Scott Green
Super Reviewer
Wall Street: Money Never Sleeps Quotes
| | |
| --- | --- |
| Gordon Gekko: | You know, Winn, um... human beings, uhh, we got to give them a break. We're all mixed bags. |
| | |
| --- | --- |
| Louis Zabel: | "Good day, I'm okay, bad day, I'm okay. Quit bugging me about my feelings. They're irrelevant." |
| Louis Zabel: | Good day, I'm okay, bad day, I'm okay. Quit bugging me about my feelings. They're irrelevant. |
| | |
| --- | --- |
| Gordon Gekko: | Money is a bitch that never sleeps. |
| | |
| --- | --- |
| Gordon Gekko: | The Root of all Evil is Speculation |
| Gordon Gekko: | The mother of all evil is speculation. |