War and Peace
(1956)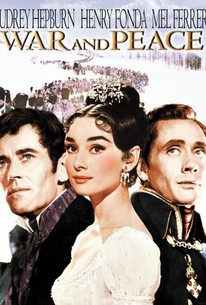 Movie Info
War and Peace is a commendable attempt to boil down Tolstoy's long, difficult novel into 208 minutes' screen time. In recreating the the social and personal upheavals attending Napoleon's 1812 invasion of Russia, $6 million was shelled out by coproducers Carlo Ponti, Dino de Laurentiis and Paramount Pictures. Some of the panoramic battle sequences are so expertly handled by second-unit director Mario Soldati that they appear to be Technicolor-and-Vistavision newsreel footage of the actual events. Still, the film falters dramatically, principally because of a lumpy script and King Vidor's surprisingly lustreless direction. In addition, the casting is wildly consistent: for example, while Audrey Hepburn is flawless as Natasha, Henry Fonda is far too "Yankeefied" as the introspective Pierre. Proving too long and unwieldy for most audiences, War and Peace died at the box office; far more successful was the epic, scrupulously faithful 1968 version, filmed in the Soviet Union.
Critic Reviews for War and Peace
Audience Reviews for War and Peace
½
The gentle Pierre and the warlike Andrei experience Napoleon's invasion of Russia. This is not a film but a monument, a tribute, a love letter of Cliff's Notes to Tolstoy's novel. Though I must confess that I have yet to read the book, I can see lurking beneath the melodrama of the film Tolstoy's sharp characters and moral dilemmas. Tolstoy is so sharp a writer and such a master of inner monologue that no film could get inside the heads of these characters like his prose, and there lies the film's weakness. But despite its medium and the film's flaws, what lies beneath unfolds in fits and starts. And what fits and starts they are. The need for war but the reasonable repulsion of it, the dalliance of youth and the practiced certitude of adulthood, and the question of what makes militaries and states great are all themes that emerge if only in abstractions in King Vidor's epic film. Overall, this is an ambitious project that fails because it cannot capture all the goals its source material sets, but it succeeds sublimely sometimes.
Jim Hunter
Super Reviewer
½
Henry Fonda and Audrey Hepburn are a reason to watch, even if it is CRAZY long and boring for long stints.
Jennifer D
Super Reviewer
Lumbering, stagnant version of an epic novel that could not possibly be covered in 3 1/2 hours. Miscasting is another major downfall of this production, Audrey Hepburn and Henry Fonda were great stars and very fine actors but they were the wrong ones for this film. Fine production design and beautiful photography do not an entertaining film make. A trial to sit through.
War and Peace Quotes
There are no approved quotes yet for this movie.