War Dogs
(2016)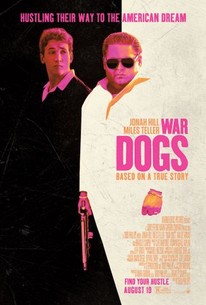 TOMATOMETER
AUDIENCE SCORE
Critic Consensus: War Dogs rises on the strength of Jonah Hill's compelling performance to take a lightly entertaining look at troubling real-world events.
Movie Info
"War Dogs" follows two friends in their early 20s (Hill and Teller) living in Miami Beach during the Iraq War who exploit a little-known government initiative that allows small businesses to bid on U.S. Military contracts. Starting small, they begin raking in big money and are living the high life. But the pair gets in over their heads when they land a 300 million dollar deal to arm the Afghan Military--a deal that puts them in business with some very shady people, not the least of which turns out to be the U.S. Government.
News & Interviews for War Dogs
Critic Reviews for War Dogs
Audience Reviews for War Dogs
½
Based on a true story, War Dogs is a fascinating crime drama about war profiteering. The film follows two former childhood friends who partner up to run an arms company that supplies the U.S. military, eventually conning their way into a multimillion dollar Afghanistan contract. Miles Teller and Jonah Hill are especially good and Bradley Cooper delivers an impressive supporting performance as a mysterious foreign arms dealer. Additionally, the writing is really strong and does an impressive job at breaking down and explaining the arms industry. And, the soundtrack brings a lot of energy and excitement to the film, and helps to set the right tone. A smart and entertaining film, War Dogs explores how avarice corrupts and destroys lives.
Dann Michalski
Super Reviewer
Holy Ben & Jerry's what's happened to Jonah Hill?! Anyway what we have here is a movie based on a [i]Rolling Stone[/i] article, whilst at the same time a very very loose adaptation of real events. The story follows two young men in their twenties, Efraim Diveroli and David Packouz, who simply become arms dealers and turn out to be very good at it. From humble beginnings they both start off with small fry to ease themselves into the industry. Then as things go well for them they naturally progress to bigger fish and eventually land a major US government contract. But as with many things, what goes up must come down. This movie has that very well trodden style that kinda feels a bit like a Scorsese mob flick with dark humour thrown in. You know what I mean right, lots of mini montages that show a period of time where the protagonists are going from strength to strength in their new, usually dodgy field of expertise. This is often accompanied by some hip music, usually something retro from way back, a bit of slow motion, narration etc...you know the score. Well this movie basically starts of predictably in that vein with both men going through some bad patches, coming together, getting through some scrapes together until finally they click and start their ball rolling. With that the film is entertaining for the most part as we unravel what kind of characters these guys are. Hill plays Diveroli, a larger than life, overly confident, brash young man who (in this movie) looks like a small time wannabe hood that wouldn't look outta place in...yep you guessed it, a Scorsese movie. On the other hand Teller plays Packouz, a struggling massage therapist with a wife, a kid and morals; the sensible foil to the loud and outrageous Diveroli. In that both actors are genuinely fun to watch as they both bumble their way into the big leagues. I don't really know much about Teller other than the hit flop 'Fantastic 4' but I was surprised to find myself relating to his situation and actually caring about his characters outcome. Here's a genuinely nice bloke, trying his best to make a living, who gets caught up in something that gets outta hand; but he doesn't deserve the backlash. On the other hand the character of Diveroli is played with gusto by Hill and is easily the more exciting to watch even if his character is an A-hole most of the time. This is a guy Packouz knew from school so they are pretty close, they have history. With that its hard for Packouz to tame or argue with Diveroli because he basically doesn't wanna upset the guy, he likes Diveroli. The man is over the top but essentially just trying to make a buck for the pair of them. To top that Diveroli gets Packouz into the gunrunning biz to help him with his money problems. Obviously things work out well and the pair make a killing which makes it even harder for Packouz to rock the boat because he owes Diveroli everything. But anyway Hill is the best thing in this movie from his somewhat heavy frame which is a little intimidating, to his crazy laugh, off the cuff quips, devious lies and eventual turncoat behaviour. What we see for the most part is the duo setting up contracts, working their business setup (AEY), juggling home life (for Packouz anyway) and letting their hair down in various seedy ways. The only real moments of 'action', if you can call it that, are when the duo actually go off to Jordan to smuggle some weapons into Iraq. They do this via truck (as they have no permit to fly despite numerous bribes here and there) which is actually quite tense and exciting because you have no clue how it will go down. If you go into the movie blind, without knowing anything of the real time events then its hard to guess what might happen. Sure you know they'll have issues, but you're not sure what kind and if anyone will end up dead. The movie is a blend of black comedy and bio-pic with this adult edge, not overly adult, but just enough to make you unsure about the levels of violence it may or may not show. After a bit of research I did discover that the story is heavily exaggerated and dramatised to make a more interesting flick. Much of what we do see is apparently fictional and never occurred, although I'm unsure what. I do know that the entire gunrunning operation into Iraq never happened, so even though its a good section of the film, its invented (or based on other events). This does hinder the movie somewhat as it dilutes the gritty atmosphere, supposedly based on real events. For instance, at one point Packouz's Albanian driver disappears without a trace when their shady deal with another gunrunner (Bradly Cooper) starts to go tits up. Although it sounds kinda normal for something like this, its actually not. The plot up to that point doesn't really follow that kind of mobster killing route, so when this occurs you tend to ask yourself why. Add to the fact that it might not be true anyway and all of a sudden the film lacks punch. Nonetheless, not knowing anything about this American scandal actually helped me enjoy the movie. It probably helped me enjoy it much more than if I did know the whole story because then I'd know the final outcome and all the stuff that was made up for the film (obviously). So despite the plot being somewhat generic with many tropes and styles that have been done many times before, I was still engaged. The main plot surrounding a huge arms deal with the US government going belly up and the guys trying to blunder their way out of it was good stuff, offering plenty of commentary on modern America. Not overly shocking these days to be honest, but still an eye opener for sure. Solid stuff but nothing epic.
Phil Hubbs
Super Reviewer
As I watched War Dogs, the darkly comic true-life story of war graft, gunrunning, and bro-tastic bravado, I kept wishing to copy and paste other characters into what was an interesting plot. A pair of neophytes was awarded military arms contracts from the Pentagon during the Iraq War, and their schemes to skirt U.S. laws to import guns across borders, illegal and faulty munitions, and uneasily work as a go-between with a client (Bradley Cooper) on the U.S. terrorism watch list are filled with perplexing yet juicy details. The biggest problem is that the two main characters, played by Miles Teller and Jonah Hill, are so powerfully archetypal to the point of unrelenting blandness. We have the naïve everyman pulled into a life of big bucks, big risk, and big power only to have it all come crashing down. Hill's character is the loud, uncouth part we've come to expect from the Oscar-nominated actor, and I defy anyone to tell me anything about Teller's character other than occupation and his relationship to other people. These parts are so thinly drawn that I didn't care about them once they finally got into deep trouble. I believe that director/co-writer Todd Phillips, he of The Hangover series, has the right qualifications to make a flinty neo-noir thriller, but War Dogs is more his half-hearted version of a glib Scorsese movie, or a David O. Russell version of a Scorsese movie. The voice over narration is dull and doesn't help illuminate Teller's character at all, and the other stylistic flourishes, from pointless inter-titles to a non-linear plot, add up to very little. Half of the movie's scant jokes are the ongoing sound of Hill's off-putting wheeze of a laugh. I'm not kidding, after an hour the movie still treats his laugh like it's a potent punchline. There is entertainment value to be gleaned from War Dogs chiefly from its larger-then-life story and the intriguing, shadowy world of war profiteers. It's a movie that made me wish I had read the magazine article it's based upon instead, which would have also been shorter. Nate's Grade: C
Nate Zoebl
Super Reviewer
War Dogs Quotes
There are no approved quotes yet for this movie.