War for the Planet of the Apes
(2017)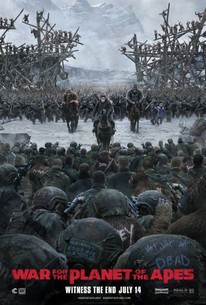 TOMATOMETER
AUDIENCE SCORE
Critic Consensus: War for the Planet of the Apes combines breathtaking special effects and a powerful, poignant narrative to conclude this rebooted trilogy on a powerful -- and truly blockbuster -- note.
War for the Planet of the Apes Videos
War for the Planet of the Apes Photos
Movie Info
In War for the Planet of the Apes, the third chapter of the critically acclaimed blockbuster franchise, Caesar and his apes are forced into a deadly conflict with an army of humans led by a ruthless Colonel. After the apes suffer unimaginable losses, Caesar wrestles with his darker instincts and begins his own mythic quest to avenge his kind. As the journey finally brings them face to face, Caesar and the Colonel are pitted against each other in an epic battle that will determine the fate of both their species and the future of the planet.
Critic Reviews for War for the Planet of the Apes
Audience Reviews for War for the Planet of the Apes
The rationale for war is ultimately relationships, yah, those we love and, umm, those other people. This work underscores that idea repeatedly, which somehow effectively renders the amazing technological effects secondary, which is a pretty big job. Excellent writing dovetails the entire series, as well, seamlessly into the original series and sets it up for repeat viewing. Top notch acting rounds it all out, with kudos to Serkis and Harrelson and Zahn in particular. Moviemaking at its finest, summer school edition!
Kevin M. Williams
Super Reviewer
What a wonderful surprise to see how much this movie is centered on its characters when it would have been so easy to focus mostly on the action (after all, there is a "war" in the title), being instead an intelligent and careful drama that takes its time to earn our emotional investment.
Carlos Magalhães
Super Reviewer
One of the bleakest and darkest summer blockbusters of all times, the conclusion to the Cesar trilogy may not be the usual shallow popcorn fun. It is intense, brutal and extremely emotional, though. The insane special effects make for the most convincing CGI creatures of all times. You can't help but fall in love with those characters and cheer for them. While not as action packed as the trailers suggested, the slow place and the feeling of constant threat makes for a very enthralling atmosphere. It's basically the "Bridge on the river Kwai" of ape movies, with plenty of Easter eggs from the classic original. A pretty gutsy film that fully pays off in the end.
War for the Planet of the Apes Quotes
There are no approved quotes yet for this movie.