War Horse
(2011)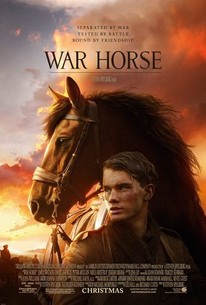 TOMATOMETER
AUDIENCE SCORE
Critic Consensus: Technically superb, proudly sentimental, and unabashedly old-fashioned, War Horse is an emotional drama that tugs the heartstrings with Spielberg's customary flair.
Movie Info
Set against a sweeping canvas of rural England and Europe during the First World War, War Horse begins with the remarkable friendship between a horse named Joey and a young man called Albert, who tames and trains him. When they are forcefully parted, the film follows the extraordinary journey of the horse as he moves through the war, changing and inspiring the lives of all those he meets-British cavalry, German soldiers, and a French farmer and his granddaughter-before the story reaches its emotional climax in the heart of No Man's Land. The First World War is experienced through the journey of this horse-an odyssey of joy and sorrow, passionate friendship and high adventure. --(C) Dreamworks
News & Interviews for War Horse
Critic Reviews for War Horse
Audience Reviews for War Horse
Even if technically effective, this awfully heavy-handed melodrama follows a "miraculous horse" and his inexpressive owner in an excruciatingly long journey toward making the audience cry at all costs, being only an overly sentimental soap opera that lacks any real sensibility.
Carlos Magalhães
Super Reviewer
½
You can basically look at this as both Spielberg's epic salute to John Ford, as well as his Barry Lyndon. Like the aforementioned Kubrick film, this is an absolutely gorgeous piece of work, with each shot looking like something straight out of a painting. This is easily some of the best cinematography from any of Spielberg's films. However, like BL, it's very long, slow, and sometimes rather tedious to get through...but unlike that on e, this is not a masterpiece. Nope, this is basically just Spielberg doing more of what he does best: serving up some very far from subtle sentimental story that is designed to really tug at your heart and shake you up emotionally as much as possible. There's nothing inherently wrong with this, but he does do it so often that yeah, it gets quite tiring. He needs to make another film like Munich, which is easily his most serious, least sappy film. I do think it's interesting that we get a sprawling story that goes all over rural England and various parts of Europe at large during World War I, and that it's all told primarily from the perspective of a horse named Joey (and sometimes his young trainer Albert), but then again, there's no real surprises about this either with how it plays out because of who is directing. It is a good story, and I'd being lying if I said that the manipulative tactics didn't work on me as planned, but I won't let my respect for what Spielberg has done for the film industry keep me from saying that the film really isn't all that remarkable. It is kinda boring, even underwhelming at times. Had it not been so beautiful, and had John Williams providing the music (even if this is just so-so Williams), and had we not had some serviceable performances from the cast (including the animals) then I'd have no problem giving this a lower rating. Plus, it doesn't help that this is, admittedly a rather watered down and fairy tale take on events. In the end, this does get enough right that I'll be kind and give it a passing grade, because let's be honest, who else does this sort of thing better than Spielberg?
Chris Weber
Super Reviewer
War Horse Quotes
| | |
| --- | --- |
| Rosie Narracott: | I might hate you more, but I'll never love you less. |
| | |
| --- | --- |
| Rosie Narracott: | I might hate you more, but I'll never love you less. |
| | |
| --- | --- |
| British Trench Soldier #1: | Woah, look at those legs he's got, those muscles! And look at those long legs, made for running away from danger. |
| German Soldier in No Man's Land: | Running away is all the have. |
| British Trench Soldier #1: | And yet we've tell 'em different. |
| | |
| --- | --- |
| British Trench Soldier #2: | (trying to decide who gets Joey) How about boxing? |
| British Trench Soldier #2: | How about boxing? |
| German Trench Soldier #1: | Not thanks, pet. Don't want to start a war. |