War, Inc.
(2008)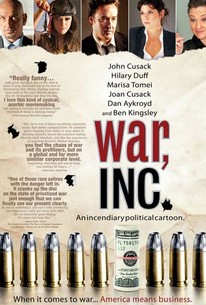 Movie Info
An assassin posing as a trade-show producer fixes his crosshairs on a Middle Eastern oil minister while maintaining his cover by organizing a high-profile wedding in this satirical action comedy starring John Cusack, Hilary Duff, and Marisa Tomei. A private American corporation run by a former U.S. vice president (Dan Aykroyd) is occupying the war-torn nation of Turaqistan, but a powerful Middle Eastern oil minister is preventing them from taking total advantage of the situation. In order to gain a monopoly on the lucrative opportunities that Turaqistan has to offer, the CEO of the corporation hires an evenhanded hitman named Hauser (Cusack) to take the oil minister out of the picture. Now, in order to carry out the contract without a hitch, Hauser will pose as the corporation's trade-show producer. The stakes are high and the potential for disaster is evident, though if Hauser can successfully organize the wedding of Central Asian pop-star Yonica Babyyeah (Duff), he's got a good chance of pulling it off. But sexy and resourceful left-wing reporter Natalie Hegalhuzen (Tomei) is determined to uncover the truth about what's happening in Turaqistan, and the moment she does, this carefully constructed scheme will crumble like a house of cards. Joshua Seftel directs a screenplay co-written by Mark Leyner, Jeremy Pikser, and producer/star John Cusack. ~ Jason Buchanan, Rovi
News & Interviews for War, Inc.
Critic Reviews for War, Inc.
Audience Reviews for War, Inc.
In the near future corporations rule the world rather than nation states and disputes are settled by a heavily armed "arbitrator" played by John Cusack. The combination of black comedy and extreme violence and the presence of the Cusacks and Dan Aykroyd will be familiar to anyone who has seen Grosse Point Blank. It's essentially a political satire, Turekistan being an obvious analogy for the events in the middle east; a kind of "Thank You For Smoking Guns". As political satire it has all the subtlety of a scud launcher, some of the physical comedy bordering on Zucker/Abrams territory, but it also has enough smart, witty and well observed dialogue to offend "patriots" everywhere and no doubt get everyone involved on the NSA's shitlist. The leads are all excellent, John and Marisa making a smart and sexy couple, Joan is hilarious as his company sidekick and Aykroyd once again supplies a memorable cameo. I couldn't help thinking it could've been a masterpiece if they'd shown a little more restraint, but the hit and miss comedy is on target far more often than off and it's nice to see an American comedy that's both intelligent and has something to say.
They bring the War Home at your Order!
One of the really...well how to describe this Movie? Oh yes
Its political satire at its best.
it was Grosse Point with out the plot.
Alexis Nomm
Super Reviewer
War, Inc. Quotes
| | |
| --- | --- |
| Hauser: | I feel like a refugee from the Island of Doctor Moreau. |
| | |
| --- | --- |
| Mr. Vice President: | The first was ever to be outsourced to private enterprise. |
| | |
| --- | --- |
| Hauser: | I feel like a refugee from The Island of Dr. Moreau. |