War Machine
(2017)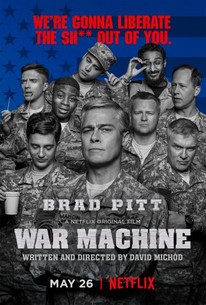 TOMATOMETER
AUDIENCE SCORE
Critic Consensus: War Machine's uneven execution keeps its fact-based story from cleanly hitting its targets, but those flaws are frequently offset by sharp wit and solid acting.
Movie Info
Brad Pitt and Anthony Michael Hall star in this satirical comedy that focuses on American military involvement in Afghanistan. The biting story, based on the book The Operator: The Wild and Terrifying Inside Story of America's War in Afghanistan by Michael Hastings, is directed by David Michod, and views the conflict from the perspective of the men leading the military campaign.
News & Interviews for War Machine
Critic Reviews for War Machine
Audience Reviews for War Machine
Brad Pitt, a highly prolific actor in Hollywood, stars as General McMahon in Netflix's newest exclusive film, War Machine. It's based on a real US Army general, and focuses on the latter part of his career during the end of the war in Afghanistan. He's desperately searching for victory in a war more complicated than simply "winning" or "losing". Brad Pitt is a rather odd casting decision... his performance isn't bad by any means, just peculiar. He brings out rocky and inflexible facial expressions and hand gestures that were apparently a part of the general's look. The character's over-the-top mannerisms and speaking style combined with the very presence of an actor like Brad Pitt sometimes disconnected me from the experience. The movie moves along quite slowly for a war film, only gaining speed in the last act. It all really comes down to how interested you are in seeing Brad Pitt in such a quirky role. Other than that, you probably won't find much reason to stick around.
Kevin Mozulay
Super Reviewer
Although Netflix has been crushing it with their television shows, their feature film category has been fairly slim pickings, which is odd, due to the fact that a television show usually takes more time to complete, depending on the content. War Machine is the latest in their feature film category, and while it does show promise in getting big stars attached to some of their releases, I still think they have a while to go before they start to shut down movie theatres. This is a premise that had a lot of promise, but the ultimate end result is pretty bland in my opinion. This film could've easily been a theatrical release, but this is exactly where it belongs, because I truly think it will receive more viewership this way. Here is why I believe War Machine to be a try-hard version of mediocrity. As the film follows the true(ish) rises and falls of Gen. Glen McMahon (Brad Pitt), the film sets itself out to be a self-aware parody of the story at hand. The way this premise is told is very relevant to our society today, but the film itself teeters on unwatchable at times, due to its very dry and boring pace. To add to that statement, there are several moments where it feels like a parody, when it's actually trying to take itself seriously. The tonal shifts are incredibly off-balance here, making for a very frustrating viewing experience. I can accept bizarre tonal shifts most of the time, but the most annoying aspect about this film was Brad Pitt's portrayal of McMahon. I'm a huge fan of Brad Pitt and many of my favourite films have him in it, but there was something very off about his performance here. It was almost as if he was given a character to portray at a birthday party or on Halloween, due to the fact that his expressions and mannerisms were way too over-the-top. I'm sure he was given specific instructions on how the real-life general acted, but his portrayal completely took me out of the movie. Sadly, this film feels more like a mediocre Saturday Night Live skit, rather than a dramatic parody, which is what it seemed to be trying so hard to achieve. Never did I feel the need to research the facts, due to the fact that they were the most interesting aspect about this film. Wether horrible or endearing, the true/false facts made about our modern society were fascinating to say the least. I found myself losing interest throughout the majority of this film, but anytime there was a board meeting, court room meeting, or press conference, I was sucked right back into War Machine. If nothing else, I believe War Machine isn't just a lacklustre film, but a decent little commentary on our lives today. This also serves as a negative, due to the fact that these elements deserved to be presented in a much better film. In the end, there isn't much to praise about this film, due to the fact that you can't really recommend it to anyone. Fans of parodies will be extremely bored as there is not enough comedy and fans of dramas will be conflicted, due to the fact that there is comedy in random areas. As a film, this doesn't work at all in my opinion, but it may have worked better as a short film thats sole purpose was to be shared around the internet in order to bring awareness about certain issues in our war today. To be honest, this isn't a horrible film, it's just tonally inconsistent and drags on far too long to really enjoy all that much. Certain messages throughout the film more than make up for the lack of interest, but the film is mediocre at best, which isn't very often. War Machine is a huge disappointment in my eyes, because the trailers intrigued me quite a bit.
½
I think this film was misleading in the marketing and the themes are clouded with misdirection. I enjoyed the film and once you get through the first 30 minutes the course begins to course correct. Brad Pitt owns the film and gives a very central performance that fires on every cylinder. Character actors turn up in supporting roles but are forgotten as soon as Pitts character enters the room, this a testament to the actors presence. The story unfolds and is very factual, I think this part of the marketing was skipped over, I honestly thought this was going to be about a bigot military leader. The film once again opens up the topic of US interference in other country political agendas, much like Sand Castle had a month earlier. This is an anti war film and I enjoy the realistic portrayal of a man with good intentions being played by the very government that created him. Not a classic film but a film that will have you thinking and asking questions on the current Afghanistan mess. 27-05-2017.
Brendan O'Connor
Super Reviewer
War Machine Quotes
There are no approved quotes yet for this movie.