War Nurse
(1930)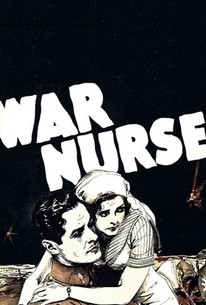 AUDIENCE SCORE
Critic Consensus: No consensus yet.
Movie Info
War Nurse was based on the anonymous memoirs of an American nurse who served with the French Army during WWI. Since the nurse's recollections included several sexual episodes, the book gained a degree of notoriety, and it was assumed that the material was too "hot" to be adapted to film. But MGM scriveners Becky Gardiner and Joe Farnham managed to retain the spirit of the original novel while still remaining safely within the boundaries of Hollywood censorship. Broadway actress June Walker starred as the title character, here named Babs, whose many romances are crystallized into a single passionate affair with downed aviator Wally (Robert Montgomery) and a less-serious entanglement with a married officer named Robin (Robert Ames). Perhaps to atone for the "sins" of the original novelist, Anita Page appears as Babs' friend Joy, who comes to a sad end after being betrayed by Robin, who likewise dies an unpleasant death. War Nurse failed to make back its $600,000 budget, whereupon June Walker, who wasn't too keen on movies anyway, returned to the stage. ~ Hal Erickson, Rovi
Critic Reviews for War Nurse
There are no critic reviews yet for War Nurse. Keep checking Rotten Tomatoes for updates!
Audience Reviews for War Nurse
There are some redeeming features of this movie, made a little over a decade after WWI ended. It tries to show the cruelty of war and the transience of our little lives, and makes a case for grabbing now for the brass ring, not taking anything for granted. In doing so, it also tries to weave in war-time romance, and I think therein lies its weakness, especially in the first half of the film, where that takes too much of the emphasis. You'll also have to get through some pretty silly scenes early on, such as water getting spilled on one of the nurses a couple of times while they're all cleaning up a building which will be used as a hospital. June Walker turns in a decent performance and Anita Page has a nice scene when she loses out while the hospital is being shelled, but Robert Montgomery and Robert Ames are smarmy and seriously annoying for most of the movie. It's irritating to see their characters continue to pursue the nurses even when it's clear their attentions are unwanted, and it rings false to see them so chipper doing so when, for example, when Montgomery hears of a friend having just died. In another scene, Montgomery ties a rope around Walker's bicycle so that he can give her a fast tow with his motorcycle, and turns around and smiles when she crashes. It gets a little better when Montgomery makes his case for being up-front about his desire for a night of pleasure since he may die on a mission the following day, and when Ames lies wounded on a hospital bed and has to express his true emotions. For me, though, it's too little too late. The film needed more gravitas and grit given the setting, and Montgomery and director Edgar Selwyn failed to set the right tone.
Antonius Block
Super Reviewer
War Nurse Quotes
There are no approved quotes yet for this movie.