The War of the Roses
(1989)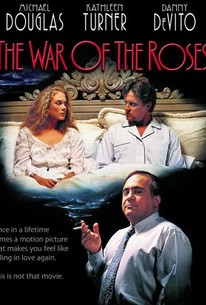 TOMATOMETER
AUDIENCE SCORE
Critic Consensus: The War of the Roses is a black comedy made even funnier by hanging onto its caustic convictions -- and further distinguished by Danny DeVito's stylish direction.
The War of the Roses Photos
Movie Info
Divorce lawyer Danny De Vito warns his prospective client that the story he's about to tell isn't a pretty one, but the client listens with eager intensity -- as do the folks out there in the movie in the audience. The War of the Roses can best be described as a slapstick tragedy concerning the decline and literal fall of a marriage. After 17 years, Oliver (Michael Douglas) and Barbara (Kathleen Turner) Rose want a divorce. Not for this couple is there anything resembling a "civilized understanding": Barbara wants their opulent house, and Oliver isn't about to part with the domicile. Barbara nails the basement door shut while Oliver is downstairs, Oliver disrupts Barbara's fancy party by taking aim at the catered dinner, Barbara lays waste to Oliver's sports car....and so it goes, culminating in a disastrous showdown around, about and under the living room's fancy chandelier. DeVito and screenwriter Michael Leeson never let us forget that the couple's self-indulgent imbroglio exacts an awful price upon their children (Sean Astin and Heather Fairfield). The War of the Roses was adapted from the novel by Warren Adler. ~ Hal Erickson, Rovi
News & Interviews for The War of the Roses
Critic Reviews for The War of the Roses
Audience Reviews for The War of the Roses
½
Oliver Rose: You weren't even multiorgasmic before you met me, were you?  "There is no winning! Only degrees of losing!" It took me a long time to finally watch this movie and it really was worth it. This is a dark comedy out of heaven. I loved everything about it. Danny DeVito's commentary and direction are awesome. And of course Michael Douglas and Kathleen Turner give fantastic and fun performances as a married couple who are now dueling for their home. The movie is extremely fun and entertaining.  Oliver and Barbara Rose have been married for 17 years. In those 17 years, they had two kids and Oliver worked himself into a position where he is making loads of money. The family is rich and they buy their dream house. Barbara spends years making the house as perfect as possible, but when she is finally done she realizes that her marriage is no longer a satisfying one. She wants a divorce, but she also wants the house and Oliver isn't going to give that up easy. Basically the whole run time is full of marital disputes and craziness.  Kathleen Turner is so good at playing a bitch. She excels at it to such a degree, that I only think of her as a bitch. Michael Douglas is just Michael Douglas. He's a solid and multidimensional actor who never disappoints. Those two on screen together in this movie are perfect. They much more fun to watch then they were in Romancing The Stone.  The movie is essentially a drama that they playoff as a comedy, and it works really well. These types of Black Comedies don't always work, but when they do, they aren't just good, they're amazing. This is one of those examples. DeVito doesn't make a false step. He brings us into a world of marital hell and he does it with a strong sense of style and wit. 
Melvin White
Super Reviewer
½
Funny movie about a divorce lawyer and his client Oliver Rose. Barbara worked her whole life to provide for her family and make a good home. When the kids are off to college, she wants to set up her own business. Her husband takes no interest. He thinks their life is perfect but she wishes he was dead. They war over their beautiful house. Great cast.
Candy Rose
Super Reviewer
½
Fun and really dark black comedy about a fighting couple from Danny DeVito.
Ken Stachnik
Super Reviewer
The War of the Roses Quotes
| | |
| --- | --- |
| Gavin D'Amato: | My father used to say a man can never outdo a woman when it comes to love or revenge. |
| | |
| --- | --- |
| Gavin D'Amato: | There are two dilemmas that rattle the human skull: How do you hold on to someone who won't stay? And how do you get rid of someone who won't stay? |
| Gavin D'Amato: | There are two dilemmas that rattle the human skull; How do you hold on to someone who won't stay? And how do you get rid of someone who won't stay? |
| | |
| --- | --- |
| Man in Chair: | Why would somebody sell a million-dollar house for $200,000? |
| Gavin D'Amato: | Who knows--divorce, loan sharks, drugs, sudden death--the point is, you get to capitalize on a fellow human being's misfortune. That's the basis of real estate. |
| | |
| --- | --- |
| Gavin D'Amato: | No. No, Oliver - you don't even deal with her. You avoid her: women can be a lot meaner than we give them credit for. Never underestimate her as an adversary. Don't even talk to her. |