War Party
(1989)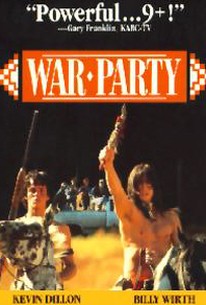 Movie Info
The town of Binger, Montana decides to re-enact the 1889 battle in which the whites massacred most of the Blackfoot Indians in this depressing and violent drama. The white mayor initiates the plan for the benefit of Labor Day tourists to the area predominantly populated by Native Americans. Things get out of control when a drunken white boy fires a loaded gun and kills a young Indian. Five Indian youths quickly avenge their friend's death and take to the woods. A racist posse shoots one and scalps another, and the Governor calls out the National Guard as the situation escalates out of control.
Critic Reviews for War Party
Audience Reviews for War Party
I finally found this online this morning and i tell ya... one of the hardest movies to find on the planet! If you ever get chance to have a look at this film i suggest to do so u wont regret it! Don't however look for over the top acting here but a very good st idea of oryline. The mayor and reservation leader decide in order to pull more tourists into the blackfeet reservation they come up with an idea to re-enact a battle between the U.s calvary and the Blackfeet indians starring any locals who want to participate. The tribal leader's son Sonny (Billy Wirth) and his best friend Skitty Harris ( Kevin Dillon) take part in the re-enactment and after one of the drunken men playing a u.s. cavalry uses live ammunition and kills one of the blackfeet youth sends Sonny and Skitty and their own formed War Party fleeing from the police, the army,and brings to surface hidden racial tensions that have been silently brewing through the years between the blackfeet people and the other townsfolks. A great little movie that shows the strong bonds of friendship and brotherhood yet showing how much racial tension unfortunatly still exists. If i ever find this on dvd or even vhs for that matter it will be a much welcome addition to the Kyle collection. A must see!
War Party Quotes
There are no approved quotes yet for this movie.