War Requiem
(1990)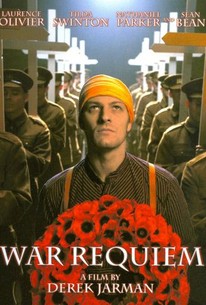 Movie Info
The late great Derek Jarman's film of Benjamin Britten's unique choral work. Faced with the task of creating a visual equivalent to Britten's work, and using only the words Britten used (the poems of Wilfred Owen and the Latin Mass for the Dead), Jarman cast Tilda Swinton as the nurse looking after the young, doomed Wilfred Owen and persuaded Laurence Olivier, in his final screen role, to play the Unknown Soldier. The result is one of the most passionate pleas for peace come out of the dark days of the late 1980s......
Critic Reviews for War Requiem
Audience Reviews for War Requiem
The powerful "War Requiem" starts with an old man(Laurence Olivier, in his last screen appearance, more or less) being pushed in his wheelchair by a nurse(Tilda Swinton) while regaling her with tales of his experiences in World War I. That was the same war that poet Wilfred Owen(Nathaniel Parker) served in and died towards the end of. On the surface, he is the subject of this film, as it follows him in a nonsequential fashion from basic training through the inhumanity he witnessed in the trenches, with rare moments of caring and sympathy. Along with this haunting imagery, there is also a good deal of Christian symbolism, which this being a Derek Jarman film, might offend one or two people. To describe his experiences, Owen used letters home and poetry which resonates to the present day(while the main setting is World War I, archival footage is shown from more recent wars) and the power of the written word is key here. Ironically, this is a movie without words, all sound coming from a requiem written by Benjamin Britten which contributes to form a grieving tribute to fallen soldiers of all eras.
War Requiem Quotes
There are no approved quotes yet for this movie.