Warcraft
(2016)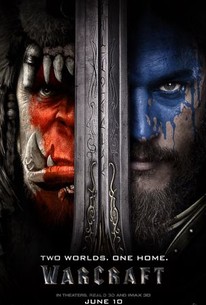 TOMATOMETER
AUDIENCE SCORE
Critic Consensus: Warcraft has visual thrills to spare, but they -- and director Duncan Jones' distinctive gifts -- are wasted on a sluggish and derivative adaptation of a bestselling game with little evident cinematic value.
Movie Info
Legendary Pictures' WARCRAFT, a 3D epic adventure of world-colliding conflict based upon Blizzard Entertainment's globally-renowned universe, is directed by Duncan Jones (Moon, Source Code) and is written by Charles Leavitt and rewritten by Duncan Jones. The producers are Charles Roven, Thomas Tull, Jon Jashni and Alex Gartner. Stuart Fenegan, Jillian Share and Brent O'Connor serve as executive producers. Blizzard's Chris Metzen co-produces. (C) Universal
Critic Reviews for Warcraft
Audience Reviews for Warcraft
½
The world of Warcraft is a massive franchise created by Blizzard Entertainment back in 1994. I say world, but maybe I should say universe because world simply seems too small for this sprawling product. Warcraft is mainly made up of five core videogames for PC's which revolve around; online multiplayer role-play, strategies and digital card collecting. But it doesn't end there, the franchise also includes novels, comics, manga, tabletop games, collectible cards etc...Now some may recognise a similarity to Games Worskshop's [i]Warhammer[/i] franchise, and I don't blame you. Legend has it Blizzard originally wanted to make Warcraft a game set in the Warhammer universe, but things just didn't work out. And as they say, the rest is history. So onto the movie and trying to condense this ginormous Tolkien-esque universe into a reasonable length runtime. Basically what we have here is a story from two perspectives, one from the human side and one from the orc side. On the orc side of things, Draenor, the orc homeworld is being destroyed by a power called fel magic. So the all powerful (and nasty) orc warlock Gul'dan (Daniel Wu) opens a portal to the realm of Azeroth (where humans live). Obviously their aim is to conquer this new realm/world, and make it their own. On the flip side the humans that dwell within this realm are none too happy about this, so they take up arms against the orcs. On the orc side we follow Durotan (Toby Kebbell), chieftain of the Frostwolf clan and a generally level-headed orc. Durotan isn't too sure about Gul'dan's evil plans. And on the human side...well we follow many characters, Kings, knights, mages etc... Dare I mention an amusingly unfortunate parallel? You know, masses of invaders swarming across a foreign land occupied by a predominantly white people (clearly of medieval European influence). Obviously this is a large coincidence, but the minute it dawned on me I had to laugh. The huge worry with this movie (for me) was whether or not I would be able to become engaged in the story not knowing that much about the Warcraft franchise. I know of the franchise, the basics, but I've never played the games or read the books etc...I'm pretty sure this would be the general worry for all, how could they squeeze all this information into one opening movie without overwhelming people. What about people who are newbies to the franchise. Well in all honesty they don't really address this problem too well in my opinion as questins are raised almost immediately. OK so fel magic is destroying the orc world, right...what's fel magic then? Unless I missed it (which is entirely possible) they don't actually explain what this mysterious force is. What happens to the orc world of Draenor? Does it end up being completely uninhabitable? How does Gul'dan know of Azeroth? I realise he's a powerful sorcerer but are these different realms/worlds common knowledge to orcs? Did Gul'dan know that humans lived there? Again I realise Gul'dan is a bad guy but maybe they could of entered Azeroth and used diplomacy? Or maybe he could of found a realm/world that didn't have lifeforms living in it? I know some of these points would negate the whole point of the movie but I'm just throwing them out there ya know. There were also other small plot devices that just didn't seem too well explained to me. Fel magic seems to be the bane of the orcs, seeing as its destroying their homeworld, yet they also rely on it quite a lot. Gul'dan appears to use it all the time, in fact his powers seem to revolve around fel magic. He uses it to harvest souls from captives (the Draenei, another species on Draenor) in order to power the portal through to Azeroth. He also uses it to save Durotan's baby when it is stillborn. So it does appear that fel magic can be used for many things, good or bad depending how you look at it. But again later on in the movie, Medivh the guardian of Tirisfal (Ben Foster, a goodie), somehow becomes infected with fel magic and it consumes him, turning him into a powerful demon. But why a demon? How does this magic work exactly? Are there any limitations? Does the magic have a natural leaning towards good or evil, or does it depend on who uses it? Leaving fel magic aside, what about the rest, the visuals? Well I have to say I really enjoyed what I saw, much to my amazement. The orcs do actually look really good in a comicbook kinda way. Let me explain, basically Warcraft has a lot in common with Games Workshop's Warhammer; and Warhammer fantasy has a very comicbook-esque/graphic novel-like vibe about it, I think. By that I mean its very lively, bold, stylised, highly detailed and outlandish. Its all very different to the darker and more serious tone in Tolkien's work. The orcs in this movie have that highly stylised, highly detailed look about them which is both over the top and genuinely fun to look at. I loved how each orc had his own unique armour, some adorned with trophies; weapons, haircuts, horns, facial features, skin colour, battle or clan standards etc...Orc chieftain Blackhand (Clancy Brown) was a good example with his matching trophies of some creatures skull and spinal column upon each shoulder. The CGI was really solid for the orcs I felt, they really had a lot of weight to them and they genuinely looked intimidating. In turn this did make the battles against the humans kinda daft because I really couldn't help but feel the orcs would/should be squatting the humans like flies. Sure the orcs are slower but the human knights were encased in heavy armour so they would be slow too. Surely the orcs would just sweep through the human ranks no sweat, hell even a horse was no match for a regular orc. I must also give kudos for the design work on the knights of Stormwind, along with all the other characters magical or otherwise. I really liked the costume designs, colours, patterns, armour, weapons etc...It all looked really great, very colourful and again very comicbook-esque. I honesty loved how the knights looked, really brought back memories of [i]The Empire[/i] from Warhammer. I think the only thing that did look completely off in the movie was the character of Garona Halforcen (Paula Patton), half-orc half-draenei (but spoke English?). This character was not CGI but the actress under heavy makeup, or so you would think. Unfortunately this makeup looked very hokey with the silly fangs sticking out of her mouth; it literally looked like they just sprayed her up with green body paint. Mind you the all CGI dwarfs looked a tad iffy too, as did the elves with their long thin ears and glowing eyes. But still despite the amount of CGI in this movie I can't believe I'm reporting that most of it was actually pretty fine. Much was obviously CGI but nothing terrible, your standard large CGI creatures/animals were all passable if obvious. I did quite like the large wolves the orcs rode, again harking back to my Warhammer days here. I'm not gonna lie and say this movie was plain sailing, far from it. There are a shit load of peculiar names, magical terms, species/race names, location names etc...that will confuse and disorient you. Many of the characters will refer to places, events and characters that will mean nothing. Much of the time you will forget who's called what, or who or what they're talking about (unless you're a fanboy of course). There is a large cast here and their characters all have generally odd names. Some of the cast don't really work, some surprisingly do, but overall the choice to use mostly unknown or little known actors was a very good decision, voice work and live action. Whether or not the hardcore fanbase was pleased with this I don't really know. Would a newbie to this world be engaged? I think so yes. I firmly believe this fantasy does tick all the boxes most fans of the genre would expect to see, on a satisfactory level. Durotan is a likeable...umm...greenish monster, a solid late in the day hero. Gul'dan is your typically evil pantomime-esque villain with a deep gravely voice (also covered in lots of bone trophies and horns). Garona does the divided loyalties bit with aplomb. Ben Foster's wizard Medivh spouts enough mystical mumbo jumbo to please any avid [i]Dungeons & Dragons[/i] fanboy. You've also got a stoic King and Queen, and of course the main handsome hero (and poor mans Aragorn) Anduin Lothar, played by Travis Fimmel. The movie isn't as wide in scope as the Tolkien universe, it does feel a bit confined to a few locations, mainly some interiors and battlegrounds. You can see a lot in the visually pleasing backgrounds, but that's all you get, pretty backgrounds. You never really feel like this world is explored much. The action is brutal and fun, but not bloody or gory which was a bit disappointing with all the mega sized orc weapons. The heavy CGI is excellent in places but somewhat insubstantial in others (there is of course a tonne of flashing, glowing magical effects and greenscreen). And lastly the main problem is the array of human characters that are generally generic and lifeless, in short you don't really care about them. Yet despite the numerous faults with this huge huge fantasy franchise undertaking, I liked what I saw. Yes as strange as it may seem, I did like and enjoy this movie...and I can't quite put my finger on why. Probably the combination of the visuals, various details and some lovely bits of stylistic flair from director Duncan Jones. Wrap all that in a nice warm blanket of nostalgia from my old table top Warhammer gaming days; and I actually find myself liking this bloated CGI stuffed Hollywood blockbuster.
Phil Hubbs
Super Reviewer
It seems like this lumbering adaptation was made exclusively for fans of the game, since for the uninitiated (like me) it will be really hard to care about paper-thin characters and a convoluted plot that feels more like the first chapter in an endless saga of movies full of noise and CGI.
Carlos Magalhães
Super Reviewer
Not having played the game, I'm surprised I liked this movie so much. The acting in "Warcraft" is mediocre at best, but the CGI is out of this world. There is a coherent story and lots of good action. It's just a lot of stupid fun.
Christian C
Super Reviewer
Warcraft Quotes
| | |
| --- | --- |
| Anduin Lothar: | FOR THE ALLIANCE!!!!! |
| Anduin Lothar: | For the alliance! |
| | |
| --- | --- |
| Medivh: | If love is what you need, you must be willing to travel to the ends of the earth for it. |
| Draka: | |
| | |
| --- | --- |
| Durotan: | We fight together or we die together. |
| Draka: | |
| | |
| --- | --- |
| Durotan: | For orcs, there is no other life but war, but with the humans, there could be. |
| Draka: | |